We planned for a weekend at Bairluty jungle camp (This camp is setup and run by the "Forest department" of Andhra Pradesh) during June 3&4, 2017 before my son's summer vacation ends. It's not a very ideal time to visit, but I had little choice to choose.
Bairluty is in Atmakur mandal, Kurnool District, Andhra Pradesh. This camp is under 'Nagaluty' Forest Range Officer's supervision.
I discovered existence of this place after reading a tweet from Sri Sidda Raghava Rao (Forest Minister- Andhra Pradesh govt) in May 2017
Camping, trekking, jungle safari, nature trails, archery, heritage walks etc. Log on to GoAP's https://t.co/4BBns7bf74 & have a great time pic.twitter.com/yCjARQErTU

— Sidda Raghava Rao (@RaghavaraoSidda) May 11, 2017
https://twitter.com/raghavaraosidda/status/862627400063926273
The images he shared were impressive. And I clicked on the link given in the tweet and I found the website was made tastefully with all required details. There was also online booking. I decided to make a visit as it is not too far from my place. It is drivable distance.
Earlier this year I visited a hugely popular 'Jungle Lodge Resorts' (JLR) on banks of river Kabini, near Mysore. The website of Nallamalai Jungle Camp (NJC) is so well done and on par with JLR website.
There are 2 more jungle camps under NJC banner – Thummalabailu and Pacherla. But Bairluty seems to be well developed in all facilities.
The link to the site is http://nallamalaijunglecamps.com/ and the landing page looks as follows: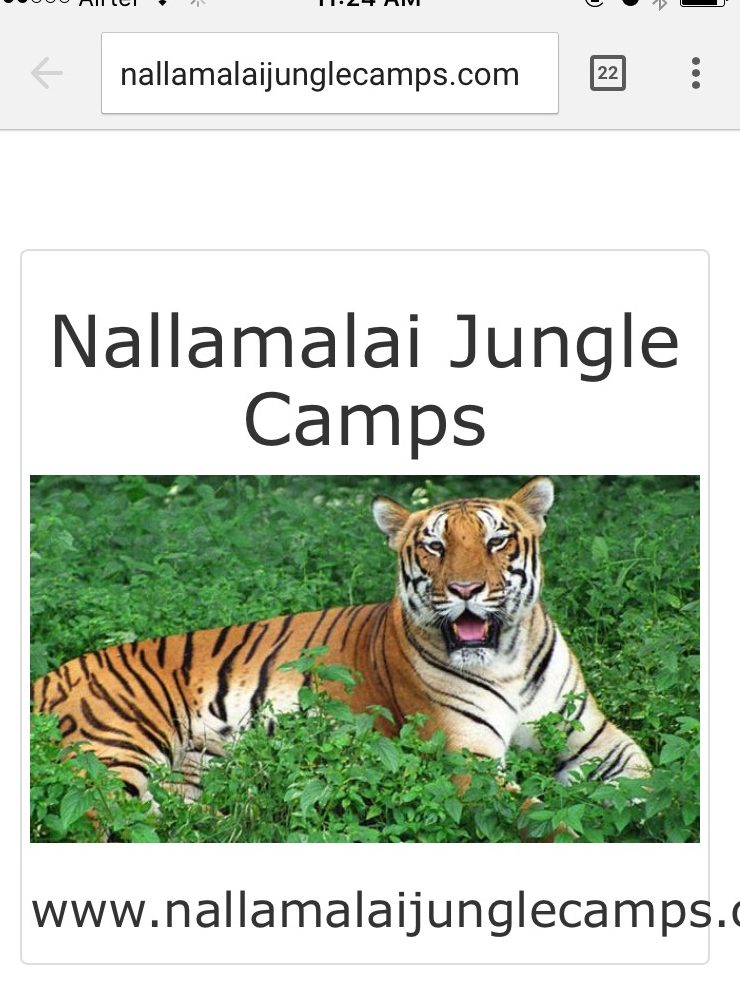 Don't get excited yet, by seeing a majestic Tiger on the landing page. I wasn't. I knew NSTR (Nagarjuna SagarSrisailam Tiger Reserve) under which this spot falls in, hardly has any tigers left. But I decided to make the trip anyway just as as a weekend trip and get close to nature and at the end it turned out to be an unforgettable experience.
Having booked a cottage online, we started at 6 AM by road from Guntur on Saturday. We reached Dornala by about 9 AM via Narasaraopeta and Vinukonda. The roads were good. We didn't drive too fast
We had breakfast at Dornala. From here if you take a right turn you can go up to Srisailam Temple nestled in Nallamalai hills. To reach this jungle camp you have to continue forward towards Kurnool and travel about 43 kilometers.. It took about 1 hour 15 mts for us to come from Dornala to this place. The road up to Dornala is good but from Dornala to this place it's a single narrow Road. There is also a ghat section in this segment (not too bad). Few kilometers after Dornala we could not get any cell phone signals. Only BSNL phones had one or two signal levels. Fortunately at the Jungle Camp Airtel, Reliance Jio and Idea phones – all three showed signals. Including mobile data on phones. It was a relief.