Sikkim 4/Feb/2010
Day 2 ( Feb 4th)
Scheduled to visit Nathu-La Pass and Tsomgo Lake.

Our Travel agent kindly loaned us with a pair of real mountaineer's jackets. Though we looked puffed up wearing those jackets along with gloves and caps we took from home, we were warm inside.
We were taken to JN Road Taxi centre by a Maruthi car from our hotel. It was well beyond the scheduled 7AM . Every morning many vehicles take passengers to Nathulapass from this point. This centre is a huge complex with parking on 3 floors for the vehicles.  Most of these vehicles are Tata Spacios. The capacity is driver +9 passengers. That makes it 10 altogether.  It is a tight fit in. The inconvenience is negated by the warmth generated by 10 people in one vehicle.
The route isn't very pleasant but the driver is the key. He can give you hell if  driving is bad. We were lucky that our driver  handled the vehicle smooth, as opposed to the driver who ferrried us from Bagdogra to Gangtok. Sikkim being a mountainous state, driving skill is very important either in terms of safe driving  or smooth handling of the vehicle.
For Nathula pass one needs prior permission as we are taken very close to Chinese Border.  An identity (Photo copy of Passport or Voter Card and a photo are required). I have sent our passport copies and scanned photos to our travel agent by email a week before and we had no problem thanks to our travel agent. Some tourists found themselves unable to take up this trip due to absence of proper documents or photos. So be aware if you plan to visit Nathula pass. And what is Sikkim trip worth without a visiting Nathula pass!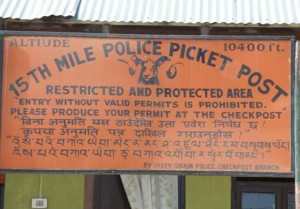 We left the Taxi Stand at about 8.30 AM and after one hour of drive we stopped at police picket called 15th Mile Police Picket. There are few tea stalls here. Most vehicles stop here for a cup of tea. The altitude is about 10,400 feet. The air is cold and the elderly may experience some difficulty in breathing. Tsomogo lake is about 8 KM from here and Nathula pass about 25 KM.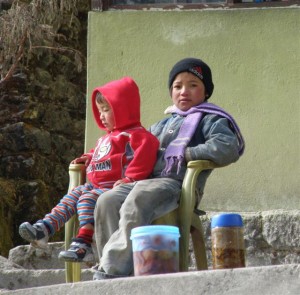 Few shops selling fast and junk foods are here. Few houses are here too. Children were seen sitting out along with pickle bottles to get what ever heat from the sun that was shining.  Kyongnosla Alpine Sanctuary is accessible from here. We were not scheduled to visit this park and is known to be interesting to those studying the flora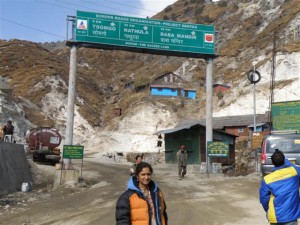 An arch way indicates the route and distance to Nathula, Tsmogo and Baba mandir from here.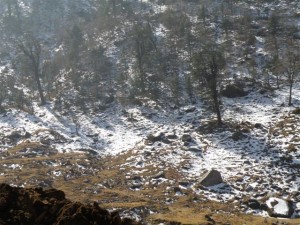 After about one and half hours drive from here, we reached Nathula pass. On the way landscapes are partially covered by snow. It was our first sight at snow and it was exhilarating.  We also crossed without a stop, the famed Tsomog Lake. We were to stop here on the way back.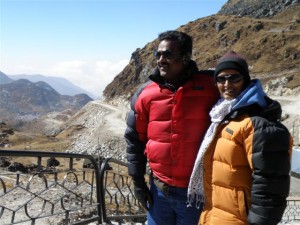 We are at finally Nathula pass. It felt dizzy and took some time to adapt. There were many who could not climb up a few steps. The temperature was about -4 and there was a strong cold wind blowing into your faces. Your ears and fingers start to feel numb and and mildly painful. But the scene is awe inspiring. You are literally and the border of India and China. There is a sense of fear and exhilaration at the same time. You cannot but feel grateful to the soldiers who are living there and taking care of our borders, our lives and are the cause of our peaceful life.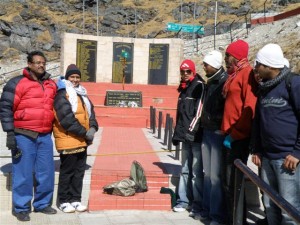 Soldier Memorial at Nathula Pass. This is a sacred place. I and Jahna stood there for a long time with out talking with each other but fully aware of thoughts in each others mind. These soldiers gave their lives for us. They are like our fathers and mothers. These soldiers lost their live saving ours. Jahnavi wanted to find some flowers and lay them at the memorial. We could not get any. Even if we found some, the security there would not have allowed  us civilians. We gave our silent respects to all the soldiers who lost their lives for the protection of our nation.
I recalled my Surgery professor who taught us clinical methods and surgery in our fourth year clinicals.  Once we were examining a soldier who came in with a lump in his abdomen. After an hour of bedside clinics, he taught us all one important lesson apart from surgery. He asked us not to charge any money to soldiers when they walk into your clinics or hospitals. I did follow that rule all the time. Two years ago, a soldier bought in his wife for a Tubectomy reversal. I did the surgery free. A year later, the proud again father brought in his gift happily: an army ration whiskey bottle!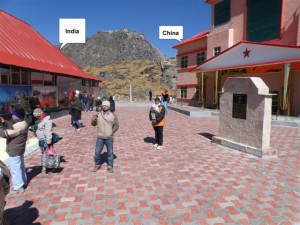 India and china at nathula pass are reduced to 2 buildings. separated by few feet of land. You can see both the building in the picture to the left. The red star is shown on the frontage of chinese building. At the time we were there, we could not see chinese soldiers at close quarters. The Indian soldiers told us of regularly seeing chinese soldiers face to face and proably exchanging a word or two with each other. Probably a cautious greeting now and then. On the Indian side, there is a board with common chinese phrases like "Good Morning", "how are you?" etc. If there were any soldiers, we would have wished them.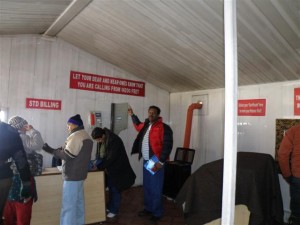 Canteen and STD booth at 14200 feet. This is one good thing present at this altitude. It is sparkling clean and maintained by the army personnel. There is a STD booth run by the army from where you could call your kith and kin and  preserve the bill for the phone call you made from 14200 feet. You could also buy a certificate for Rs50 that you visited Nathula pass.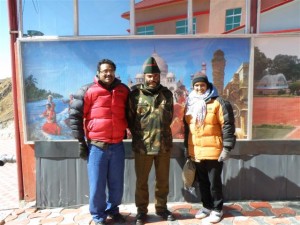 Our Jawans guarding us (Bihar Regiment) Mr.Ohja in his duty. We took permission of Mr.Ohja and clicked this photograph. You cant stop admiring these heroes at our border. Incidentally, Mr.Ohja sports fantastic moustach.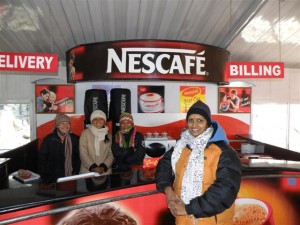 Immaculate Canteen at this altitude. The table tops and counters are fantastic and clean every inch. There are few pretty girls from the local families who are assisting the counter. Fantastic breads, samosas are available piping hot at very very nominal prices. The clean environment, warm room and hot foods served by smiling girls make you feel like sitting a bit longer than the patience the driver has waiting for you to come back.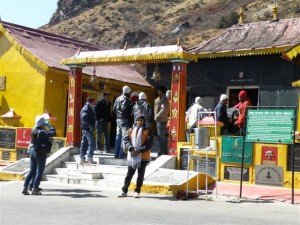 Baba Mandir
My first contact with snow (Rather frozen water)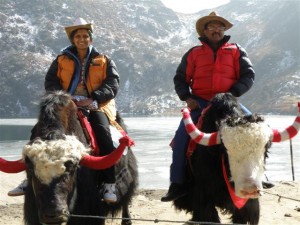 Yetis on Yaks at Tsomogo Lake