Sikkim 3/Feb/2010
I and my wife Dr.Jahnavi decided to go on a holiday. It had been a long time since we went out. I mean just we our selves, minus our son. My fourteen year old son easily agreed to allow us to go without him and it was a surprise to us! We did not fail to notice that he  is growing up and maturing fast.
Next point was where to go? We wanted a short holiday and not a very expensive one, since we are in the midst of some heavy expenditures. I read enthusiastic opinions on Sikkim from www.indiamike.com besides being aware that the local transport and hotel prices are low, almost half in this winter season.  Never being averse for some risks (Biting colds), I had persuaded my wife and managed to get her approval. I got in touch with Yaknyeti travels at Gangtok by email/phone and booked my stay(3rd to 7th Feb), local transport and sight seeing. We live in Guntur in Andhra Pradesh. The options were to reach New Jalpaiguri by train or Bagdogra by flight.
We did want a short break from work so we decided to take a flight. Bagdogra does not have direct flight from my nearest Airports, Hyderabad or Chennai. After some research I found that Spicejet runs a flight from Chennai in which we need not deplane in its Kolkota stop. This saves few hours transit time.
Day 1 (Feb 3rd)
Reaching Gangtok.
We  reached Chennai from Guntur by train on the early hours of 3rd Feb. We spent few  hours in my brother in law's place, finished bathing and had a quick  breakfast and dashed to the airport in  Skoda to catch the SpiceJet SG 323 direct flight to Bagdogra. We left Chennai airport at 10.50 AM and reached Bagdogra at 2.40 Pm Bagdogra is a defense airport, has a single runway and  allows civilian aircrafts to operate. The airport is small. You walk down the stairs and simply continue to the terminal. We found, military personnel everywhere and as we were entering the terminal there was a booming sound in the air. We turned back to see an airforce jet take off in a flash. My son Aditya would have loved to see a take off at such close range. Photography is prohibited in this airport.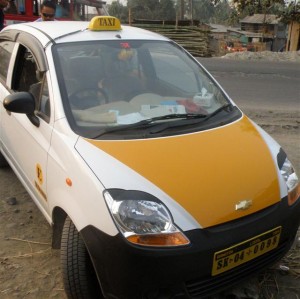 As we exited the airport, there was the taximan sent by the travel agent who took us into a Chevrolet Spark. It was small but new. The driver had already sat one un-authorized passenger in the front seat. An young man, chatty in nature and kept the driver engaged all the time. It usually takes about 4 hours of drive from the airport to Gangtok.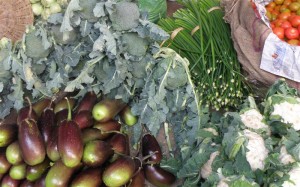 We took 5 hours as our driver and the un-authorized passenger helped themselves of one hour shopping at a makeshift vegetable market.We took a look at the counters for a while and found stunningly large vegetables, thicker and fluffier greens etc. I saw Broccoli for the first time there. The drive can be quite tedious I found out later if  the driver does not handle the steering wheel well. Our driver gave us real bends in the tummy. We stopped for a short tea break at a road side shack. It is run by a Nepali family with plastic tables and creeky chairs. You get quick food like noodles etc. We were hungry and had bread and Omlette and syrupy tea.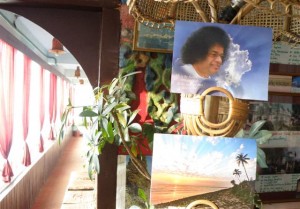 Behind the counter I found a large poster of Saibaba. Then you begin to notice his pictures are seen at many place,
behind taxis, on the dashboards and many tea and snack shacks. We saw many more in the next few days.
The day light went down by about 5.30 PM. The temperature started to climb down. In February, the driver explained, the days are shorter, the visitor crowds thinner and work slacker. No wonder he took an extra passenger in the front seat.( Against the travel agent's rules)
The travel up to Gangtok, from the plains of West Bengal takes you through some bad stretches of poorly maintained roads.
Of the approximate 4 hours of the drive, the last hour is through Sikkim state after leaving West Bengal. Once you are into Sikkim state, it was refreshing to find, more developed dwellings on the way. We started to find many more liqour shops.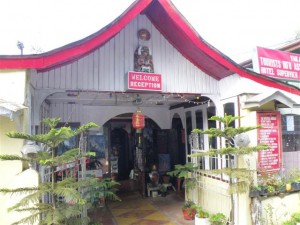 We entered Gangtok at about 8 PM. It was really cold by this time.We reached Hotel Himalchuli ( our boarding place arranged by the travel agent), after dropping off the un-authorized passenger earlier in the town.The hotel looked quaint but not to our liking due to poor maintainance, the windows were letting in cool air.  We managed to say there for the night with the help of a room heater and blankets. But we resolved to change the hotel the next day. We were to leave at 7AM the next day to Nathula Pass  and were quite tired to make a change of hotel that night.