To Bairluty (Jungle Camp)
We planned for a weekend at Bairluty jungle camp (This camp is setup and run by the "Forest department" of Andhra Pradesh) during June 3&4, 2017 before my son's summer vacation ends.  It's not a very ideal time to visit, but I had little choice.
Bairluty is in Atmakur mandal, Kurnool District, Andhra Pradesh. This camp is under 'Nagaluty' Forest Range Officer's supervision.
I discovered existence of this place after reading a tweet from Sri Sidda Raghava Rao (Forest Minister- Andhra Pradesh govt) in May 2017
Camping, trekking, jungle safari, nature trails, archery, heritage walks etc. Log on to GoAP's https://t.co/4BBns7bf74 & have a great time pic.twitter.com/yCjARQErTU

— Sidda Raghava Rao (@RaghavaraoSidda) May 11, 2017
https://twitter.com/raghavaraosidda/status/862627400063926273
I decided to make a visit as it is not too far from my place. It is drivable distance.
Earlier this year I visited a hugely popular 'Jungle Lodge Resorts' (JLR) on banks of river Kabini, near Mysore.  The website of  Nallamalai Jungle Camp  (NJC) is so well done and on par with JLR website. (Note: I am comparing the websites, not the camp!)
There are 2 more jungle camps under Nallamalai Jungle Camp  (NJC)banner – Thummalabailu and Pacherla.
The link to the site is http://nallamalaijunglecamps.com/ and the landing page looks as follows: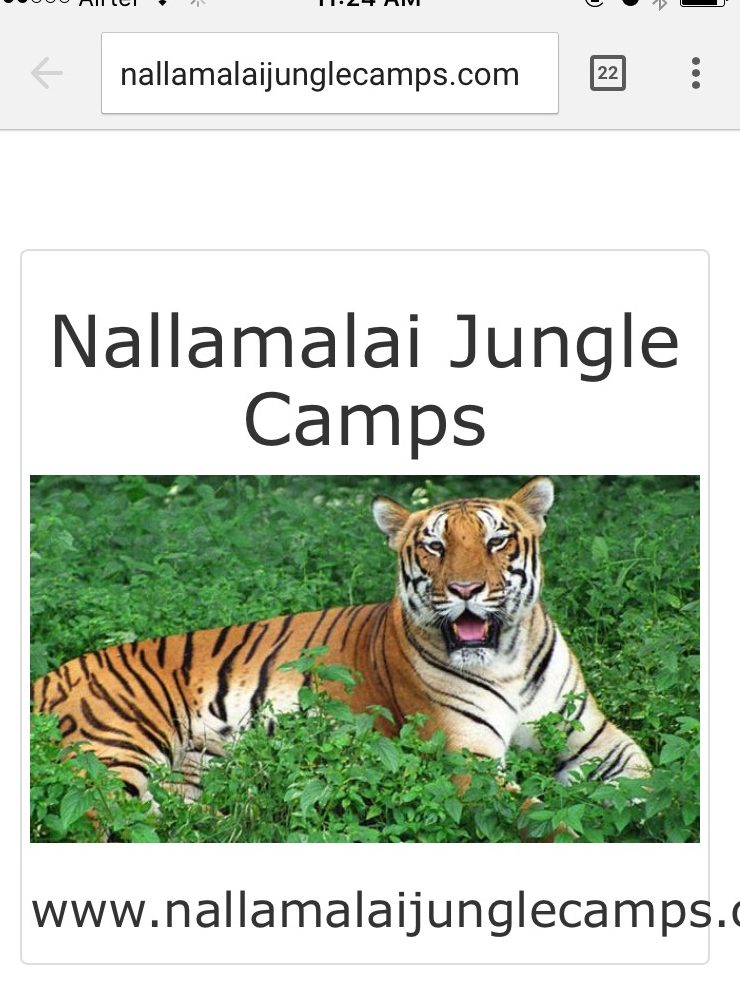 Don't get excited, by seeing a majestic Tiger on the website.
 NSTR (Nagarjuna SagarSrisailam Tiger Reserve) under which this Bairluty is located, hardly has any tigers left. But I decided to make the trip anyway just as as a weekend trip and get close to nature and at the end it turned out to be an unforgettable experience.
The Journey: Having booked the cottage online, we started at 6 AM by car from Guntur (I live here) on a Saturday. We reached Dornala by about 9 AM via Narasaraopeta and Vinukonda. The roads were  good. We didn't drive too fast
We had breakfast at Dornala. From here if you take a right turn you can go up to Srisailam Temple up in the  Nallamalai hills. To reach this Bairluty camp you have to continue forward towards Kurnool and travel about 43 kilometers.. It took about 1 hour 15 mts for us to come from Dornala to  Bairluty . The road up to Dornala is  good but from Dornala to Bairluty it's a single narrow Road. There is a ghat section in this segment (but, not too tough). Importantly, a few kilometers after Dornala we could not get any cell phone signals.  Only BSNL phones had weak two signal levels. Fortunately at the Jungle Camp Airtel,  Reliance Jio and Idea phones – all three showed signals. Including mobile data on phones. It was a relief.
There are two forest check posts before you reach this camp. The second forest check post is Bairluty gudem check post (Its near a Chenchu's habitat- Chenchus are the inhabitants of Nallamalai hills.)  and is the place where you take a right turn and travel approximately 300 metres to reach this Jungle Camp. You have to pay Rs20 at each of these checkpoints.
As we reach the Bairluty (or Byrlooty) check post: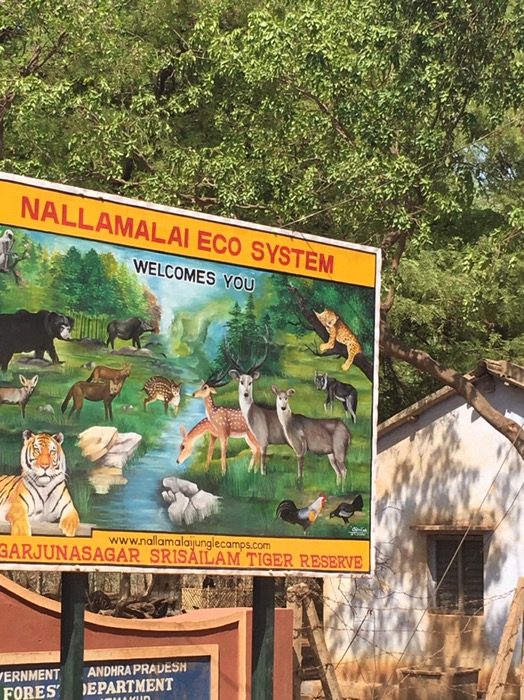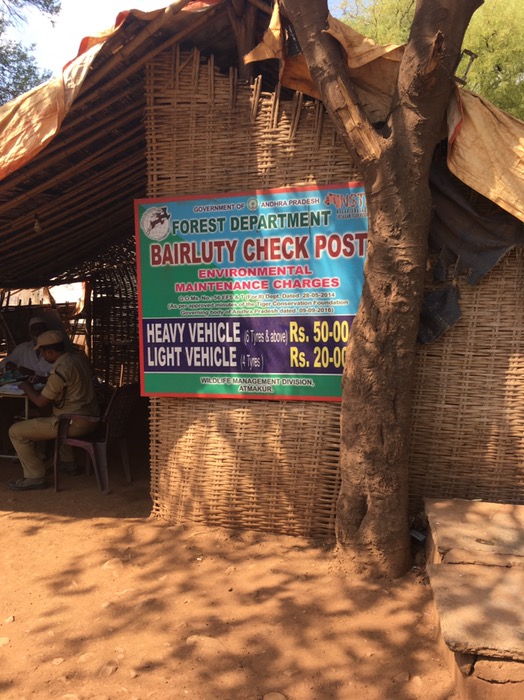 The camp is in the forest ( this is an ecotourism project) but at the entrance to the camp we saw  two plastic trees with 'Jungle Camp' name board in between them welcoming us inside. It's an eyesore. Other than this, no other issue in the whole camp. See photo below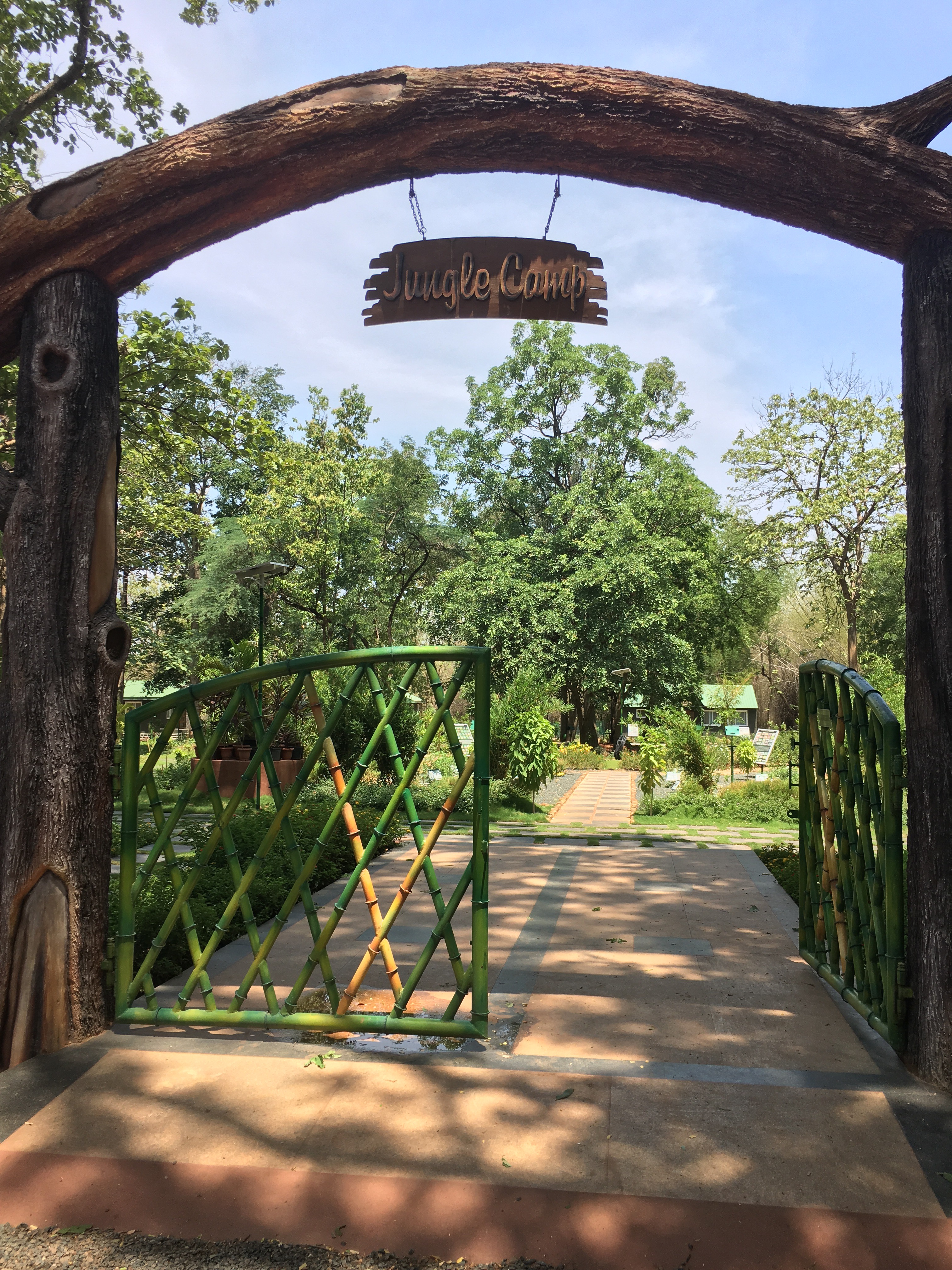 Another view of hideous plastic tree stems,  next to which we can see nice beautiful natural trees and also do note the mandatory notification slab associated with govt projects.
You have to appreciate the AP govt to have permitted this camp and also the friendly Chenchus, who are the natural dwellers of this area.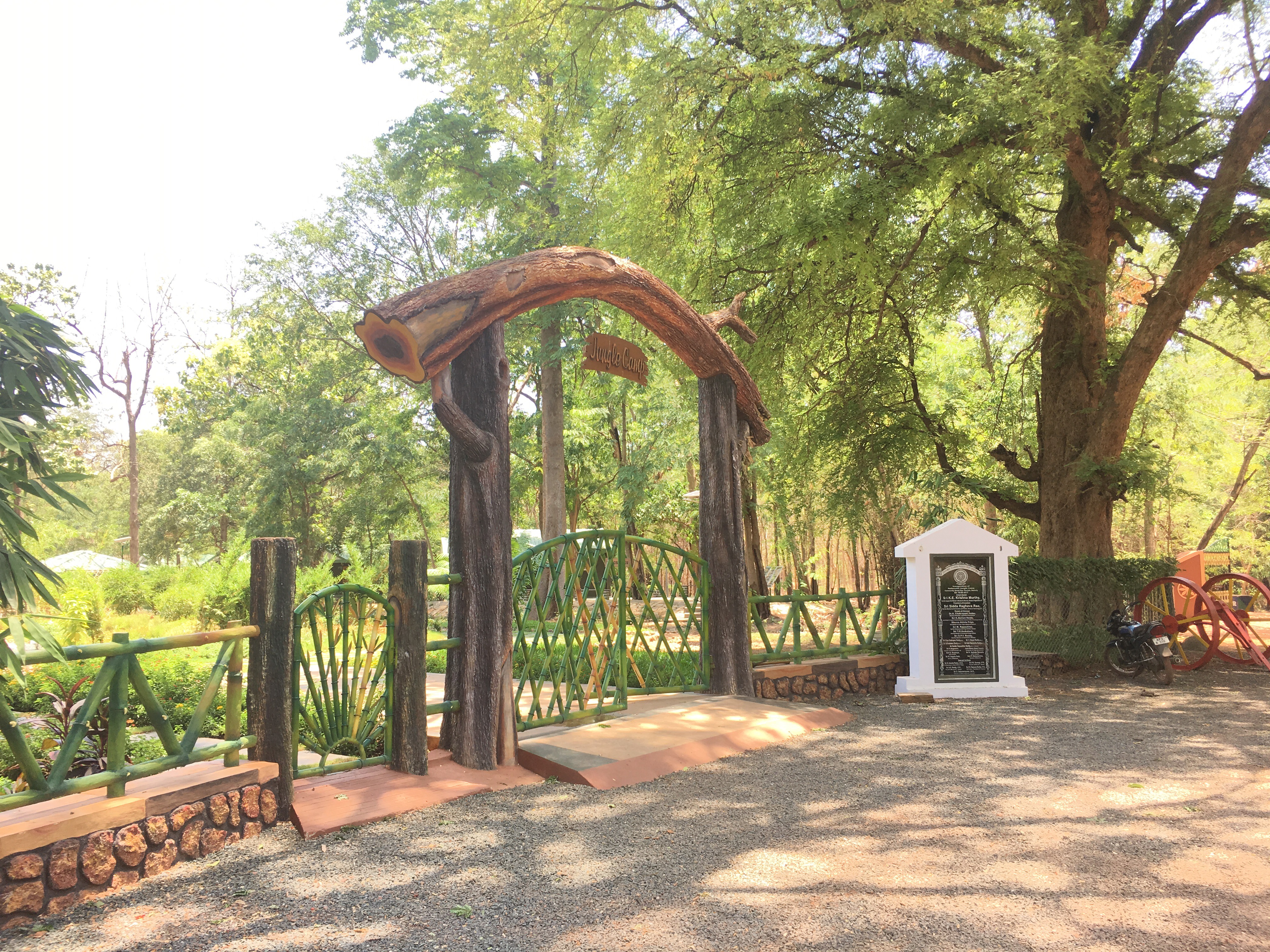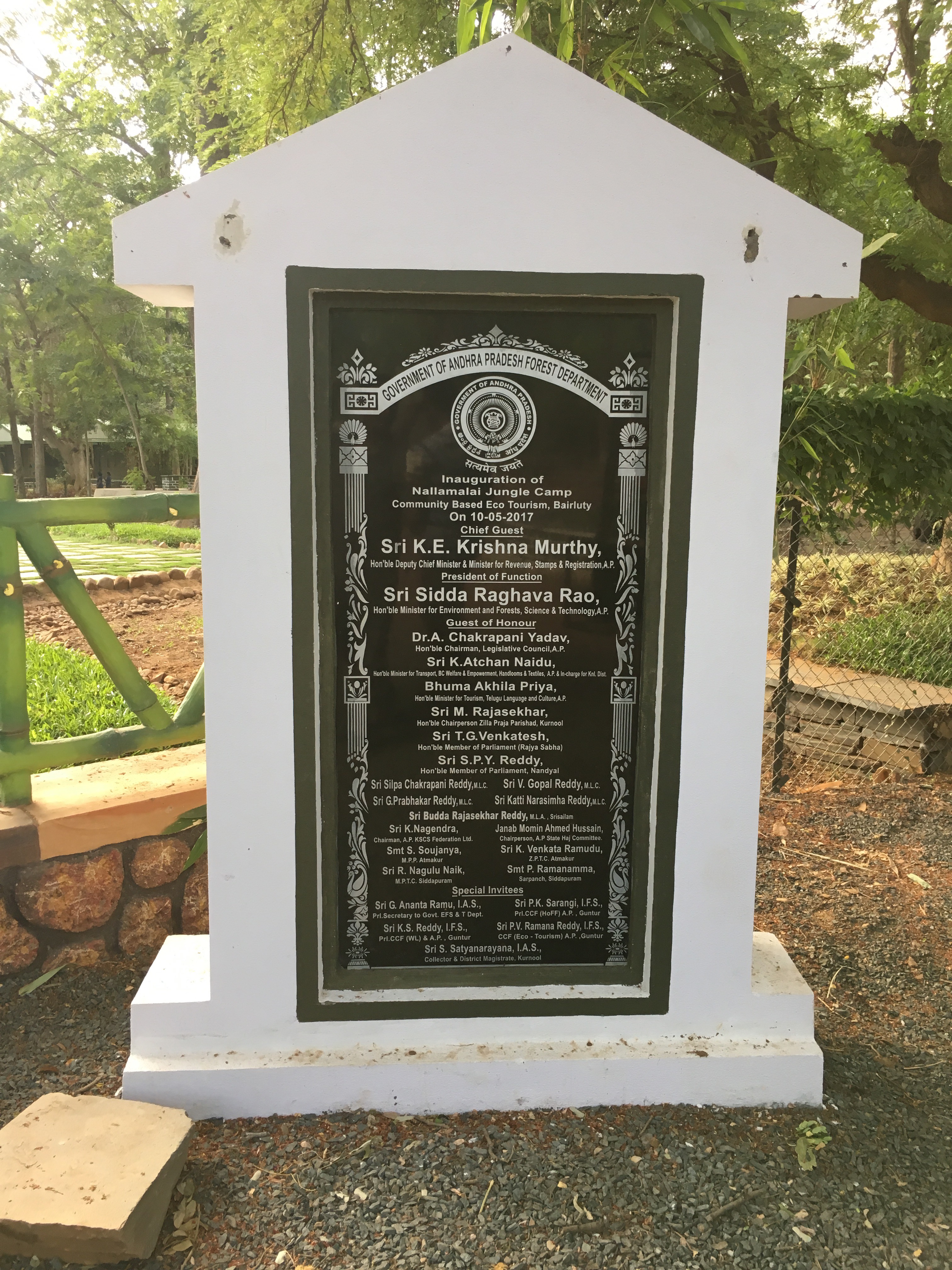 The reception office  is tastefully done. There are some tourist souvenir trivia for sale. The bamboo cups are nice. (I purchased  soaps and a bamboo cup, made by the tribes).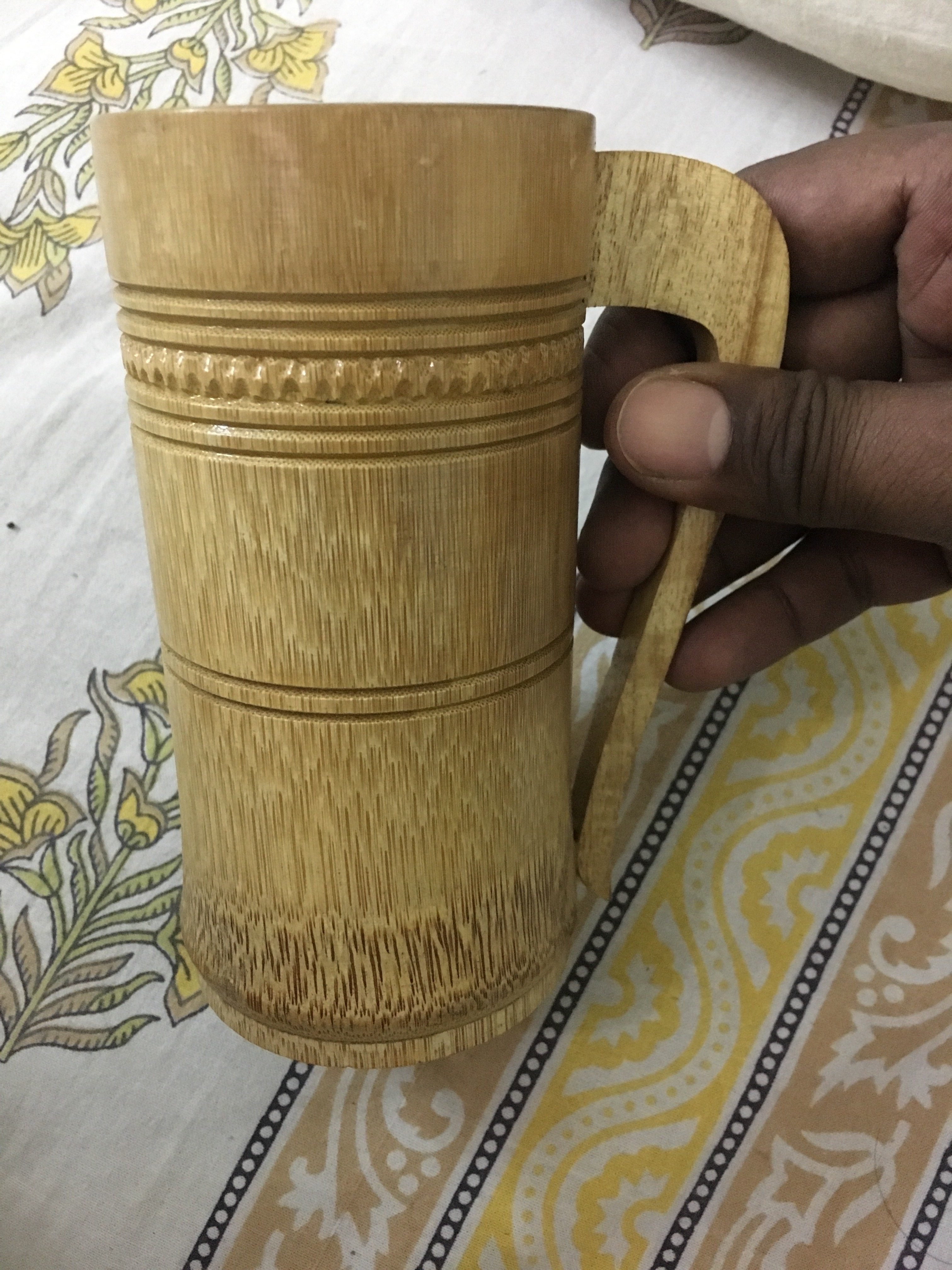 The receptionist is a Chenchu girl. ( The Chenchus are Adivasi, a designated Scheduled Tribe ) It is nice to see such projects employing the local people. This forest belongs to its  inhabitants – the Chenchu and the flora & fauna.
We the city/town lot are visitors and should be grateful to them for allowing us  to spend time in their habitat.
The official check-in time is 12 noon but the receptionist did not allow us to occupy the room since we came in early. I asked if the rooms were ready for occupation and the receptionist said yes, but the forest officials have not given permission for anyone to occupy the rooms before the specific time. I didn't argue. It was no point. Rules are rules. And we have to respect them.
Enter Veerababu the helpful co-ordinator of this location. He understood the situation that we were stuck between rules and reality and had to wait in the car or under some trees in the parking lot. He asked us to visit Siddapuram water tank nearby, about a couple of kilometres and comeback. So, to kill time we proceeded towards the tank and after reaching the tank we realised that we had to travel along unpaved, narrow bank of the vast lake for quite a distance to see migrating birds in the water body. We didn't want to risk a puncture and returned back after spending sometime there.
Siddapuram water tank : This board is the beginning. We have to climb a slope beyond this point.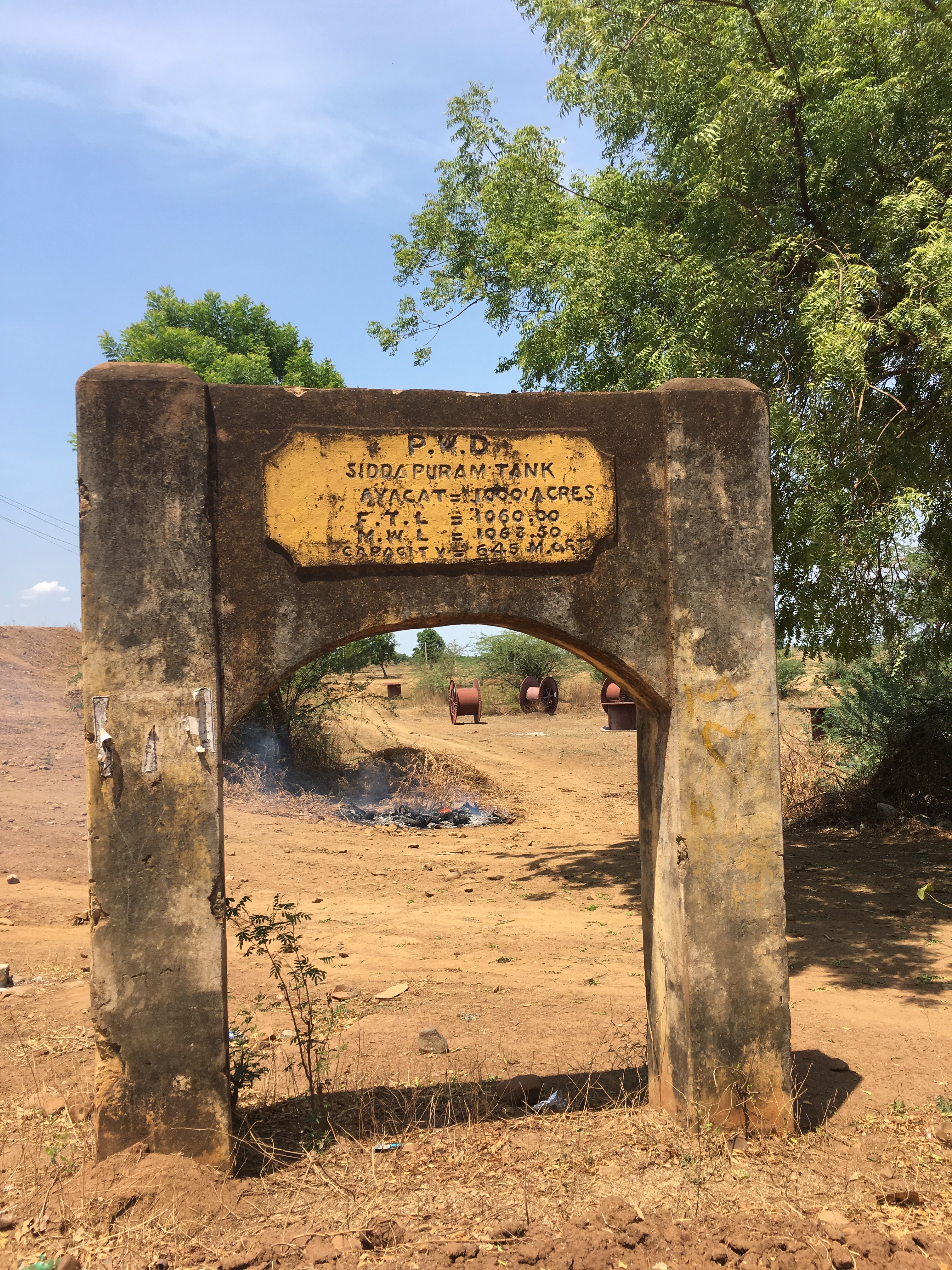 We came back by about 11.15 AM, anticipating  to wait for room. But we were given our tent without waiting further. The  landscaping of the camp is beautifully done and the tall trees, chirping birds, few monkeys welcome you.
Your connection with nature begins.
There are 10  cottages. 5 RCC and 5 tents. We booked a tent. Tents are marginally expensive.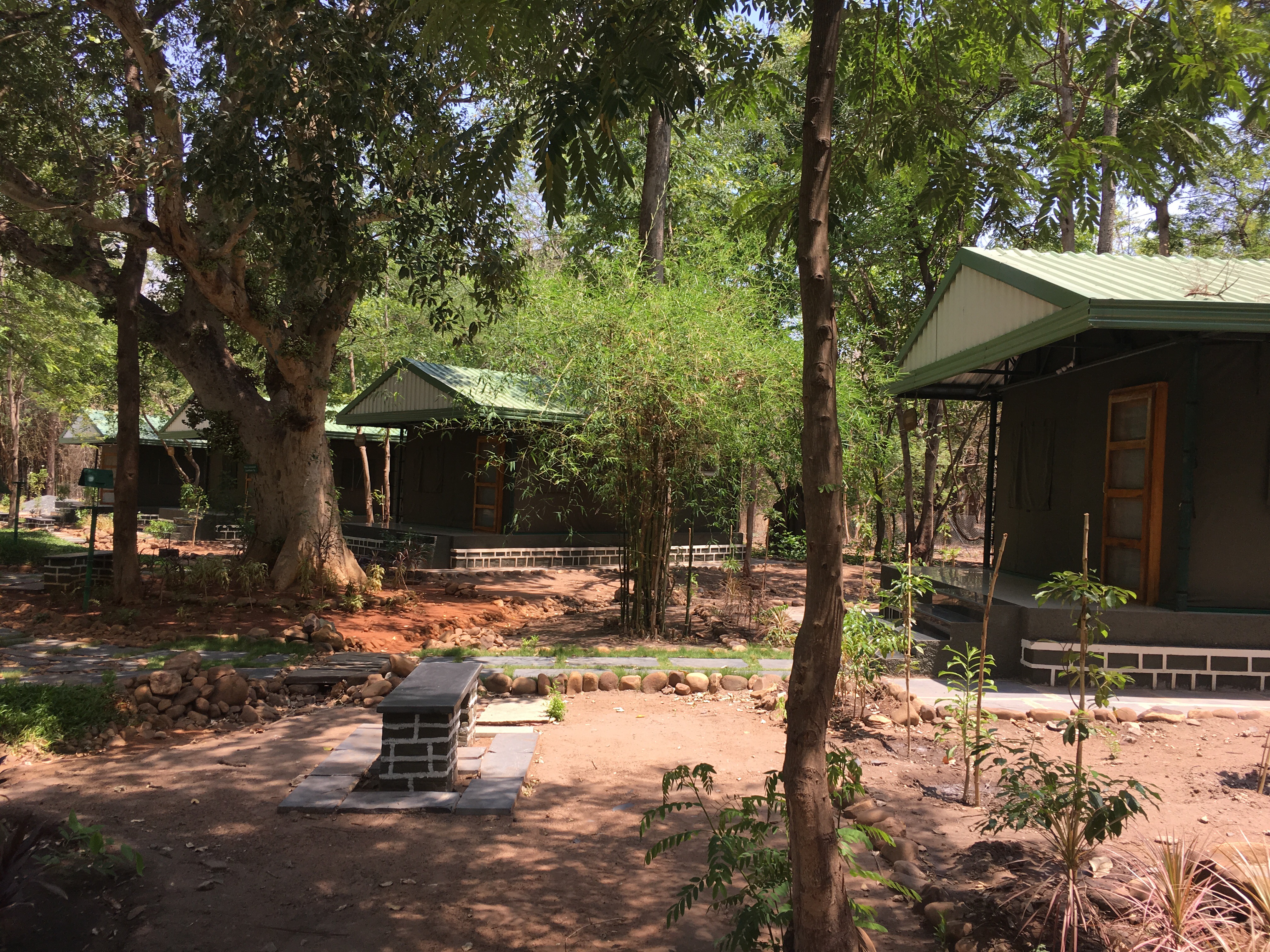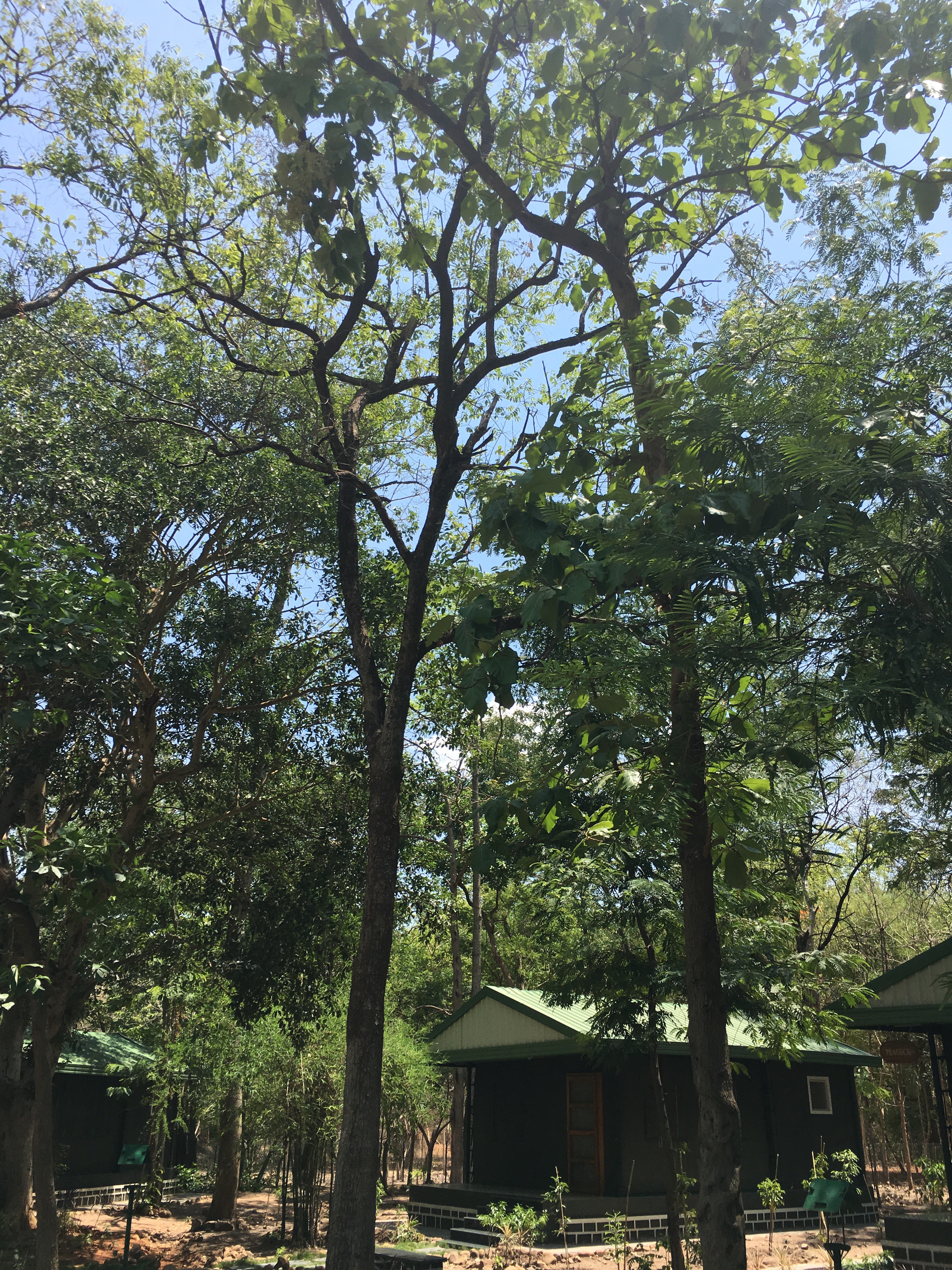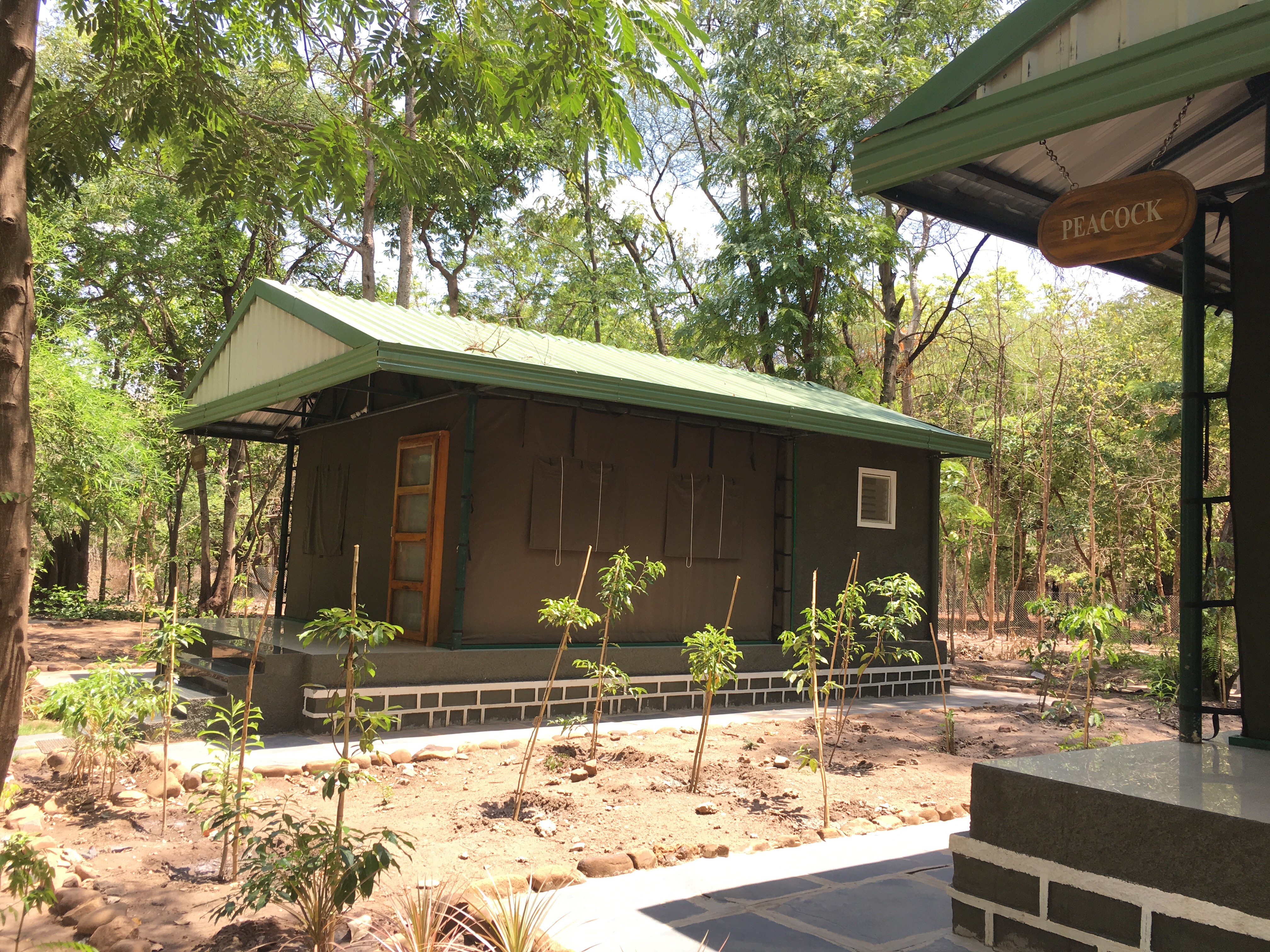 All cottages open into a central garden, which it's not way too big, but with plenty of trees /  plants / play area for kids / shaded sitting places with chairs and small water pools. Its well paved for a walk. In the night the path is lit well with solar lamps, all charged at one place in the day and  spread all over in the night by the chenchus employed. There are also solar LEDs  on lamp posts as well, all over the place.
All the tents  are named after birds. Ours was named 'Peacock'. The tents are sturdy and very utilitarian. All tents are furnished and with air-conditioning. There is a dressing area and has a spacious attached bathroom with shower and water heater. (This part is RCC).
The following picture is of the tent from inside-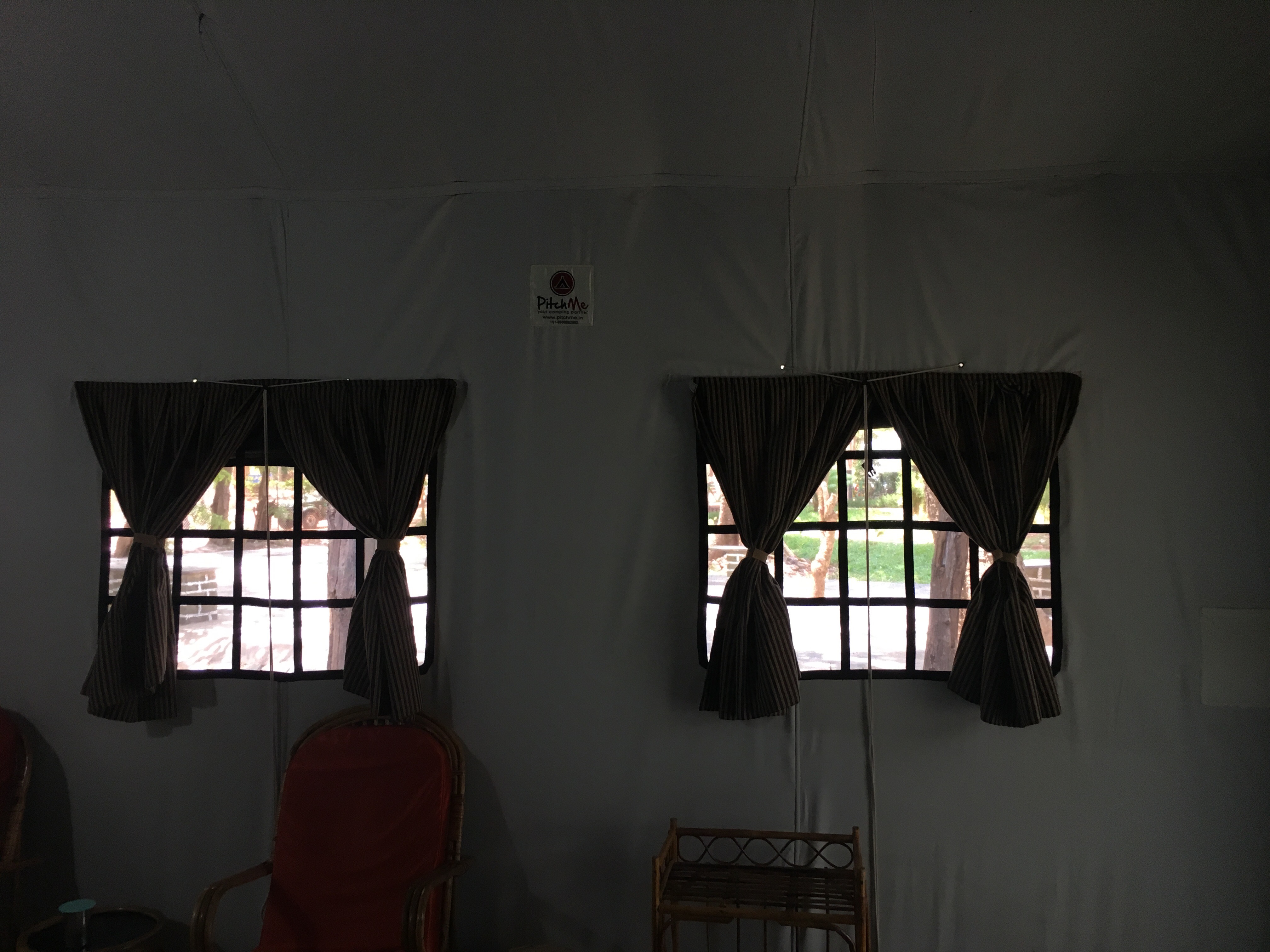 From outside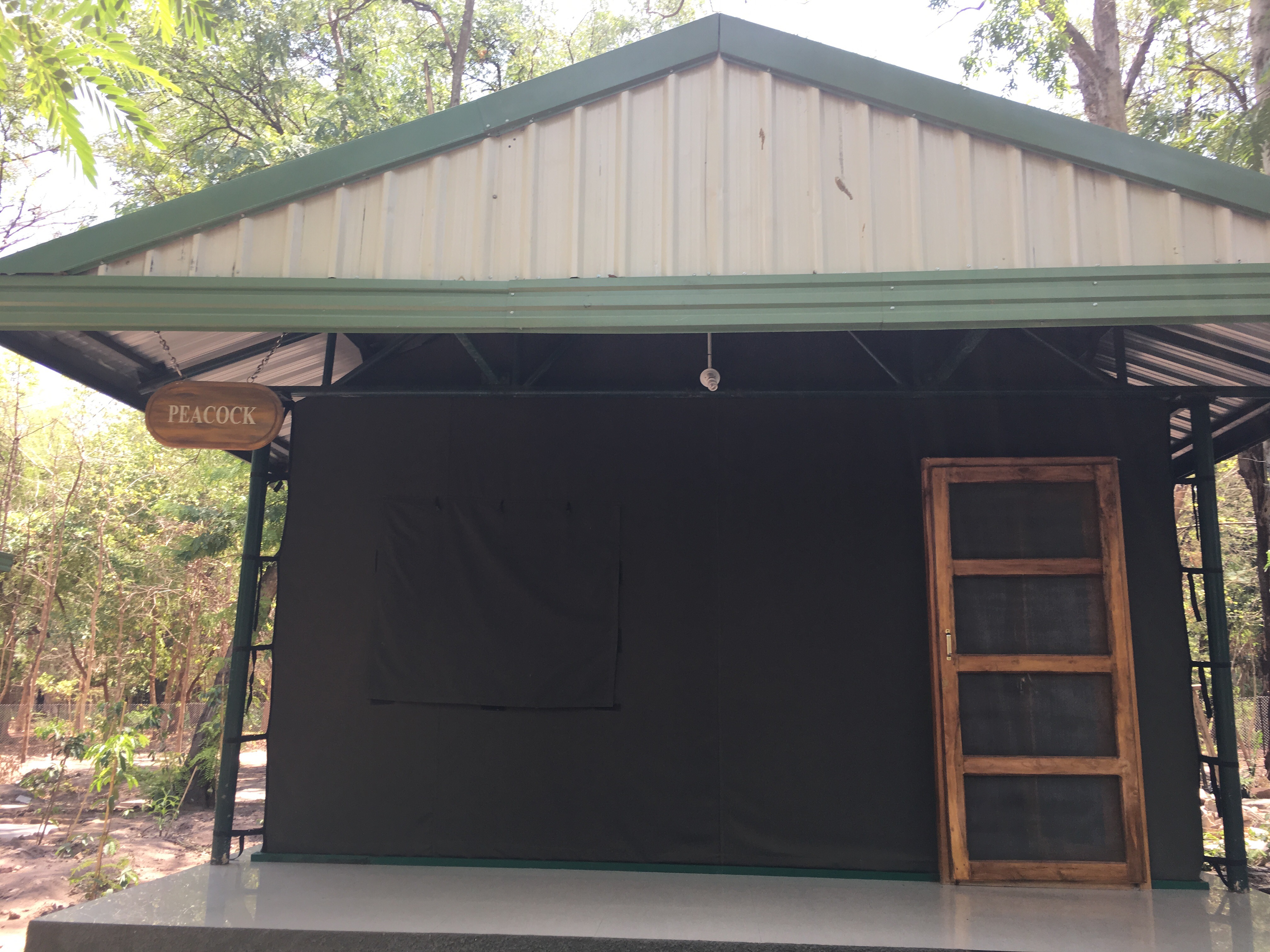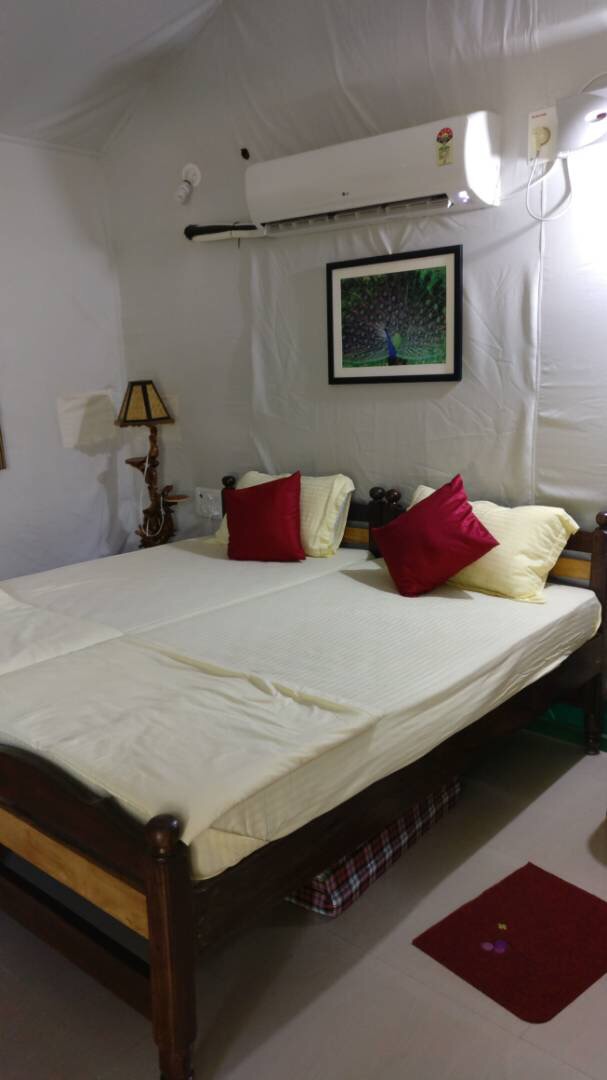 The tents are made by www.pitchme.in, if you want to procure one for yourself.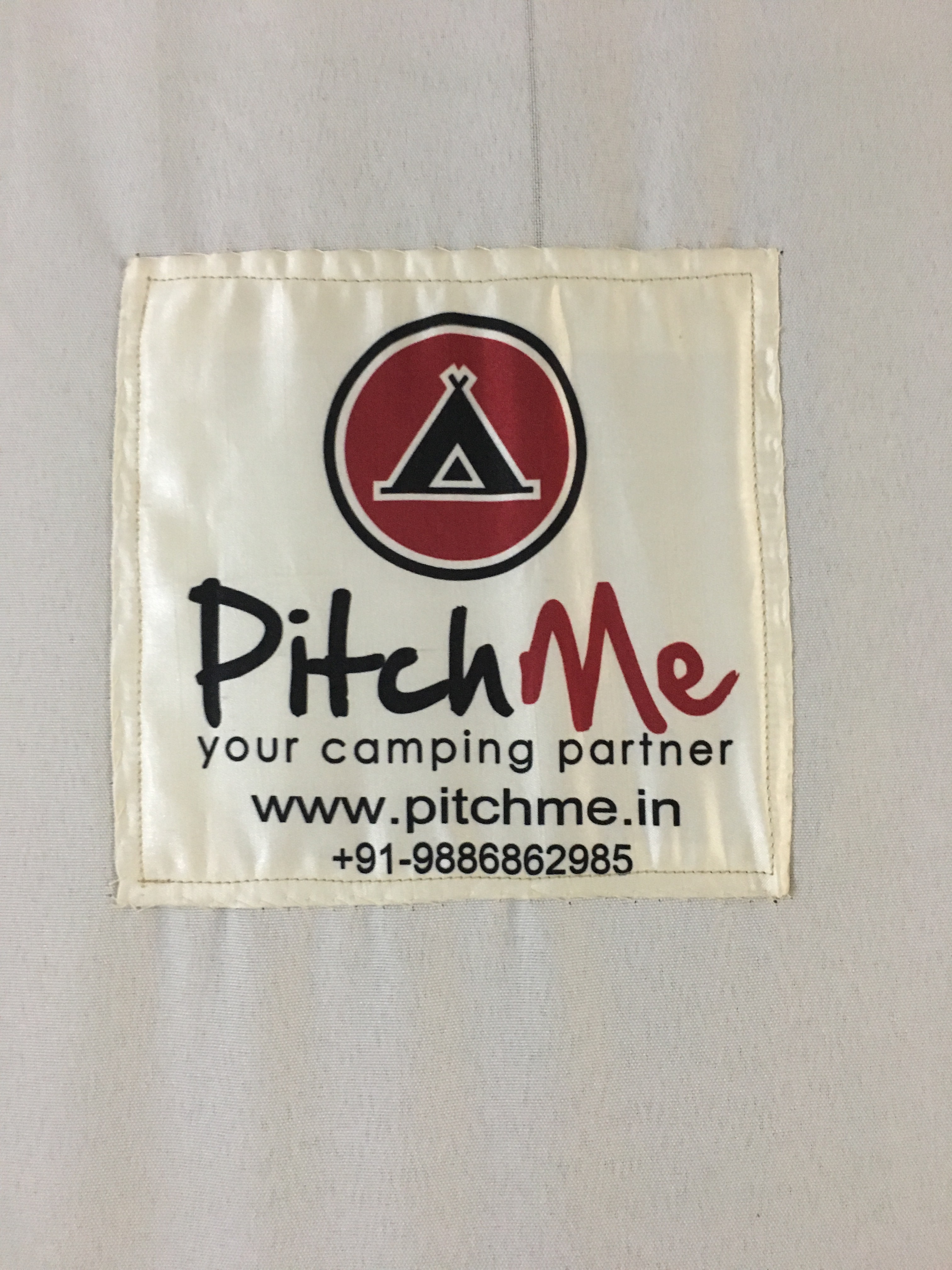 As my wife and son were settling, I took small walk around the place. There is plenty of information displayed regarding the biodiversity. Almost all trees and plants are labeled . You are surrounded by plenty of birds and butterflies that we don't see anymore in our towns and cities. Almost all the birds are rare species. The place is constantly being kept clean and neat. Lot of security is provided too.
We rested till 1-15 pm and had lunch at the  "Honey-Bee" restaurant.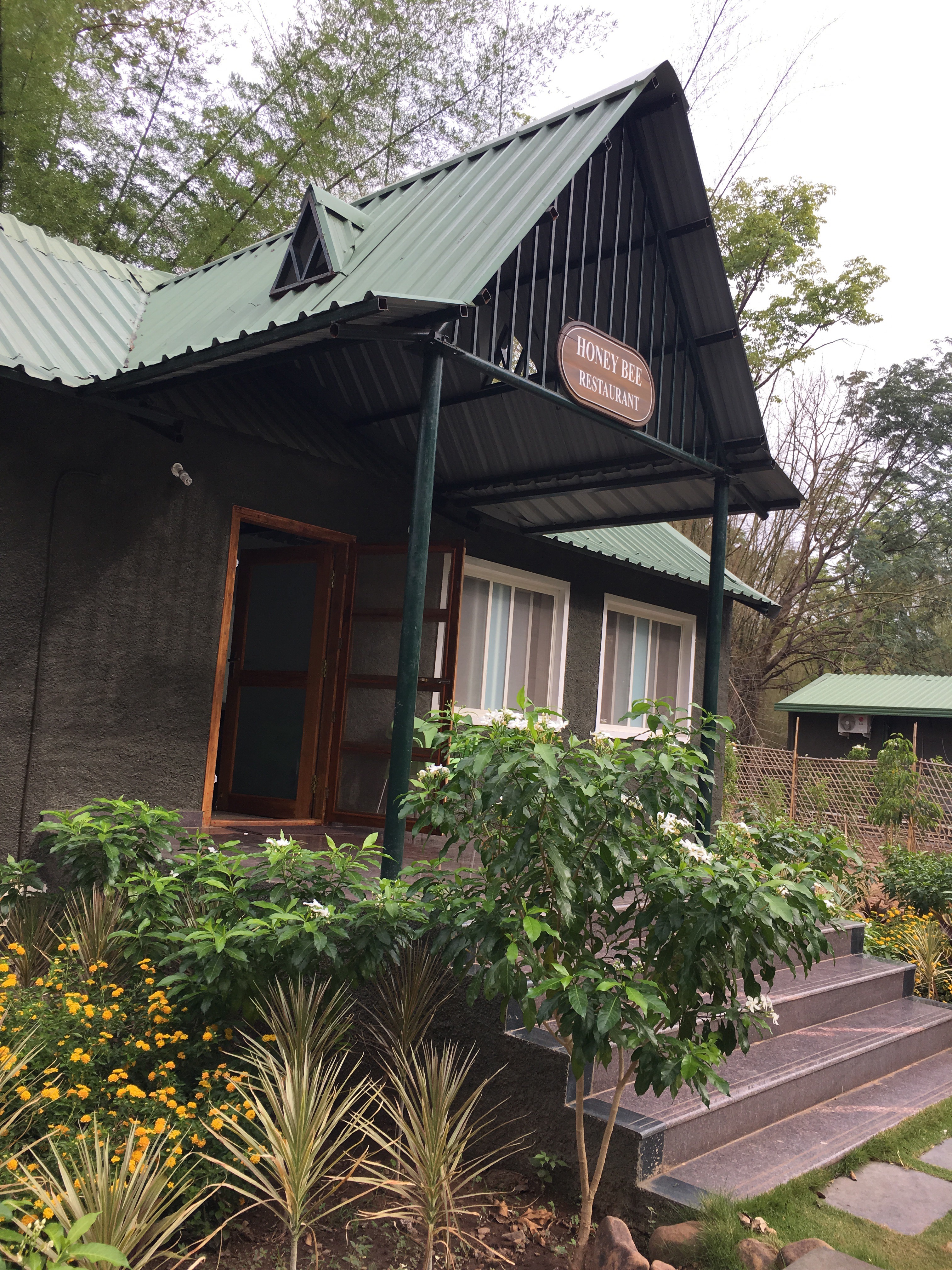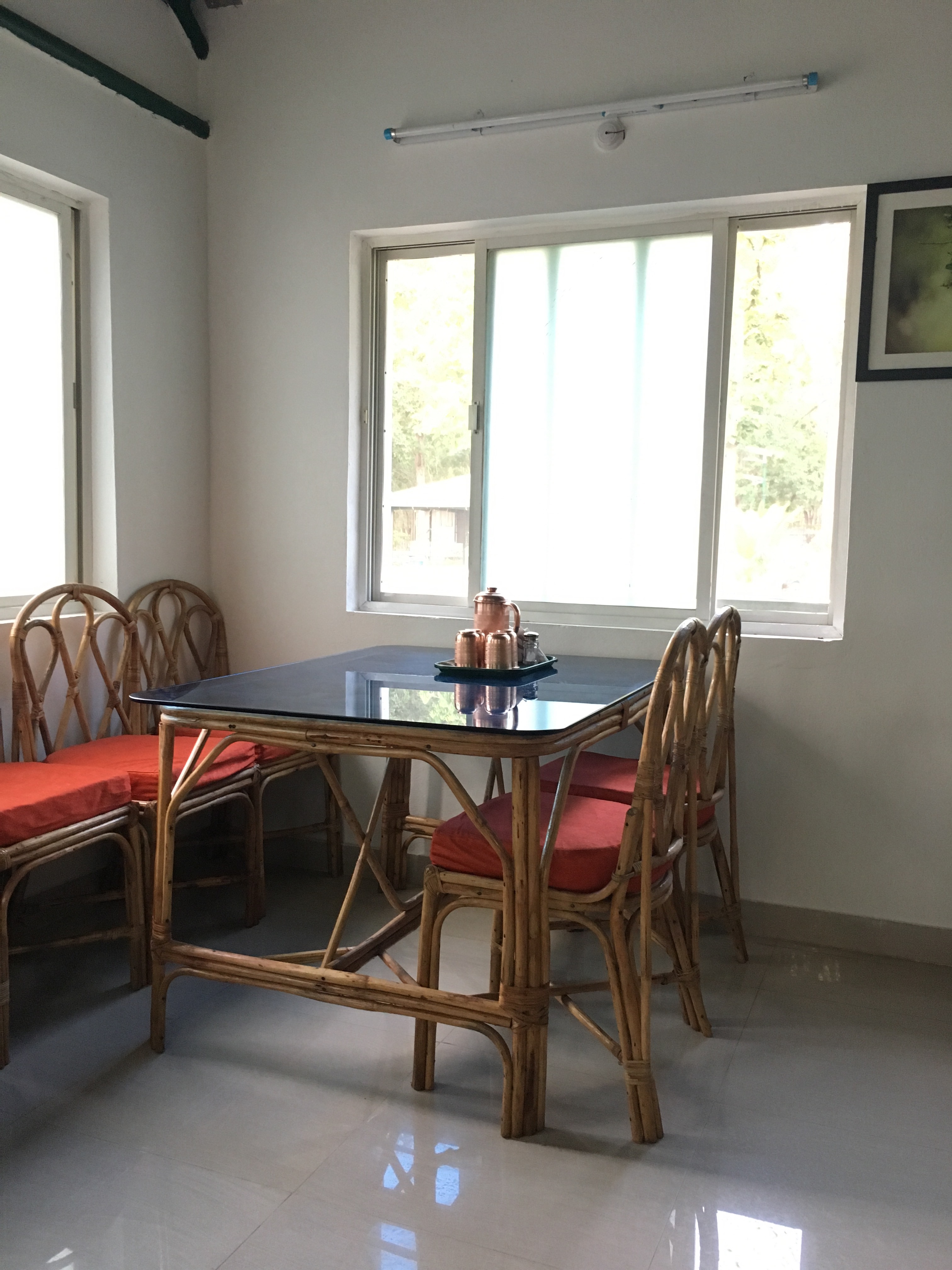 Lunch was basic working lunch with nothing fancy but filling. Restaurant is small with 4 tables but clean and utilitarian. The chef is a friendly 'Ramu kaka'. The  Chenchu boys working here see that your plates are full always. There are comfortable chairs also in the open air in case you prefer eating close with nature.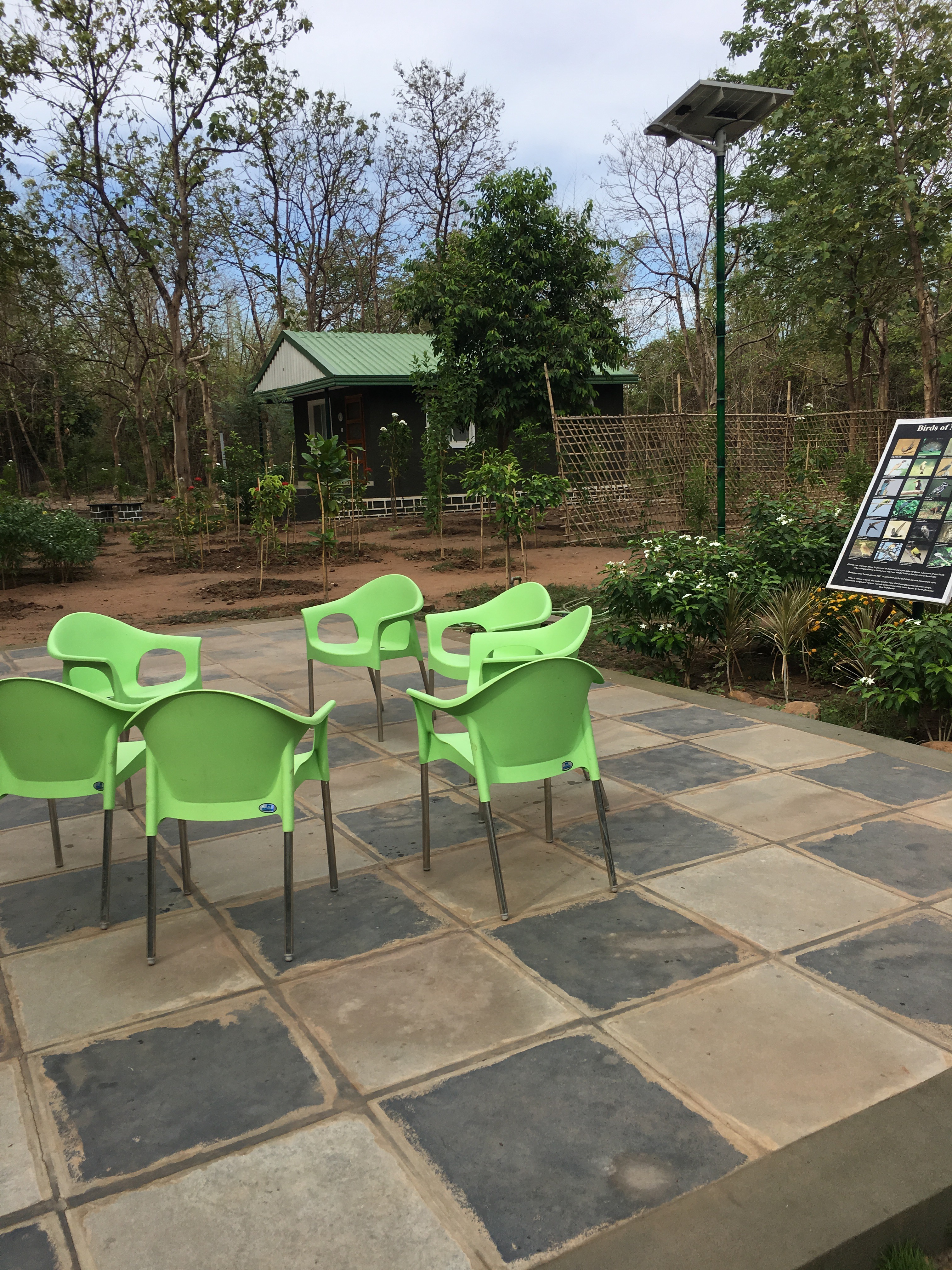 The Chenchu boys are employed exclusively for maintenance and security and are  being trained in hospitality. These boys are new. Please handle them carefully when you visit. We are their guests. The boys are learning the technique of handling guests and their needs. They are not exposed to city dwellers and may not know proper interaction. Chenchu people, we are told by the forest officials, are a very sensitive lot. So being nice with them is essential for success of this eco project. Throwing tantrums like in a hotel in towns is a strict no-no. For example  we found only one towel in our tent. We paid for three people accommodation. My wife and son made few gentle efforts to convince the staff first, then the receptionist, who again in turn checked up with Mr Veera Babu and we were given rest of the towels. We found VeeraBabu constantly on his toes. This camp  opened in May 10, 2017 and we are here in June first week. In-time the Chenchu staff will learn to handle guests. We found the enthusiasm and a solid determination in forest official Mr.ChandraSekhar, we interacted with. I came to know he is a  FRO  (Forest Range officer – A rank par with Circle inspector or above, I am not sure) A  noon nap followed and at 4pm it was the all important "Safari" time.
Our safari ride was a "nature ride" with less animal sightings except for few wild squirrels. Can't blame the animals. We came in  peak summer time. We had plenty of beautiful and colorful birds sightings. It's a bird photographer's delight. A Chenchu tribesman Ramu accompanied us in the open roof  Jeep.  Chenchus always carry an axe with them. They are also ace marksmen with bow and arrows. Chenchus are brave and can handle wild animals single handedly. (I remember my  late grandma tales of her time when they used to visit SriSailam temple by foot. These chencus were helpers those days. They protected the travellers from wildlife and also carried the luggage up the hill. She used to stress that the Chenchus are very trustworthy people. Here is a picture of Ramu and Forest guard Sattar Singh.)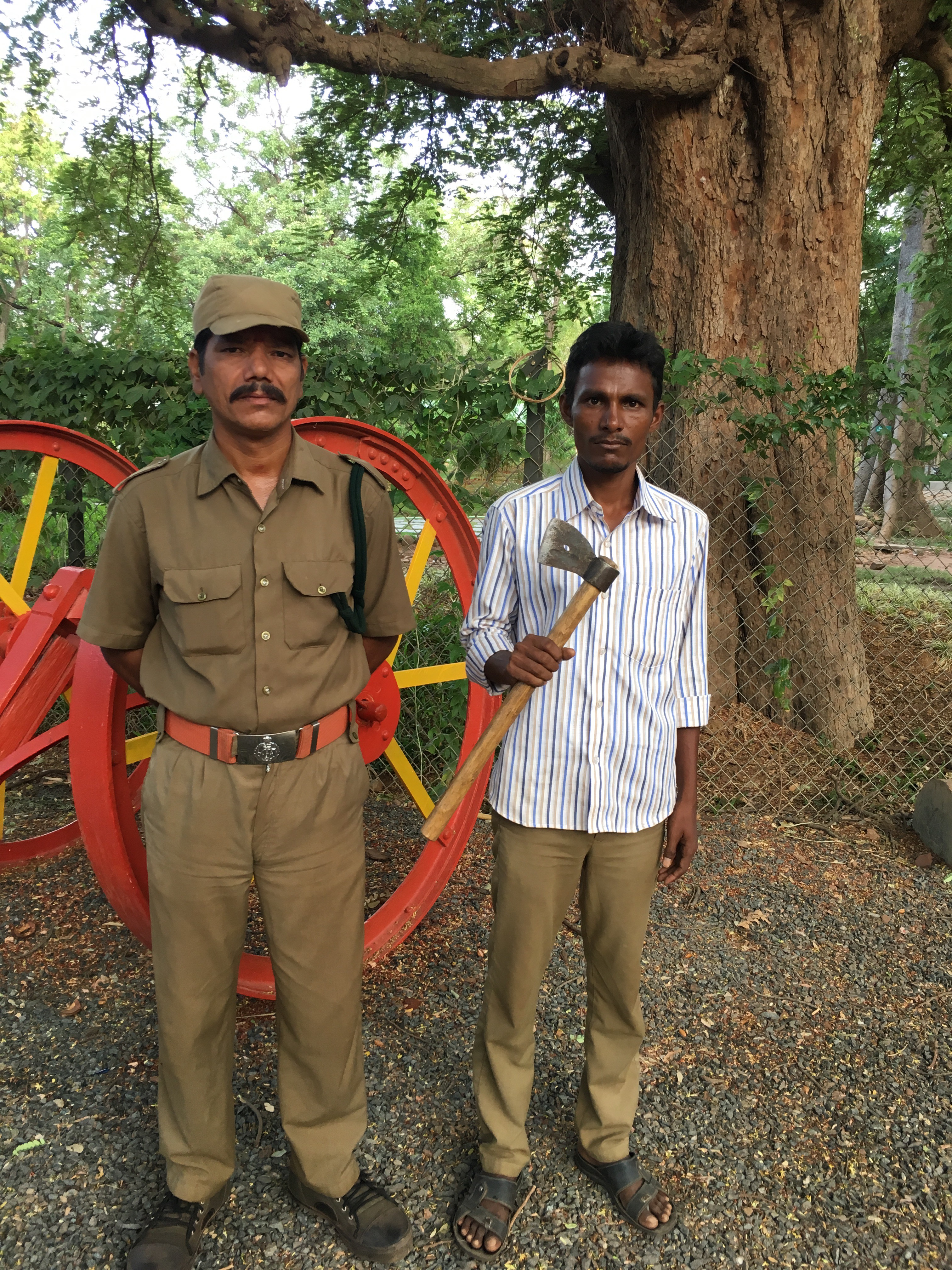 Another staff member holding Chenchu traditional bow and arrows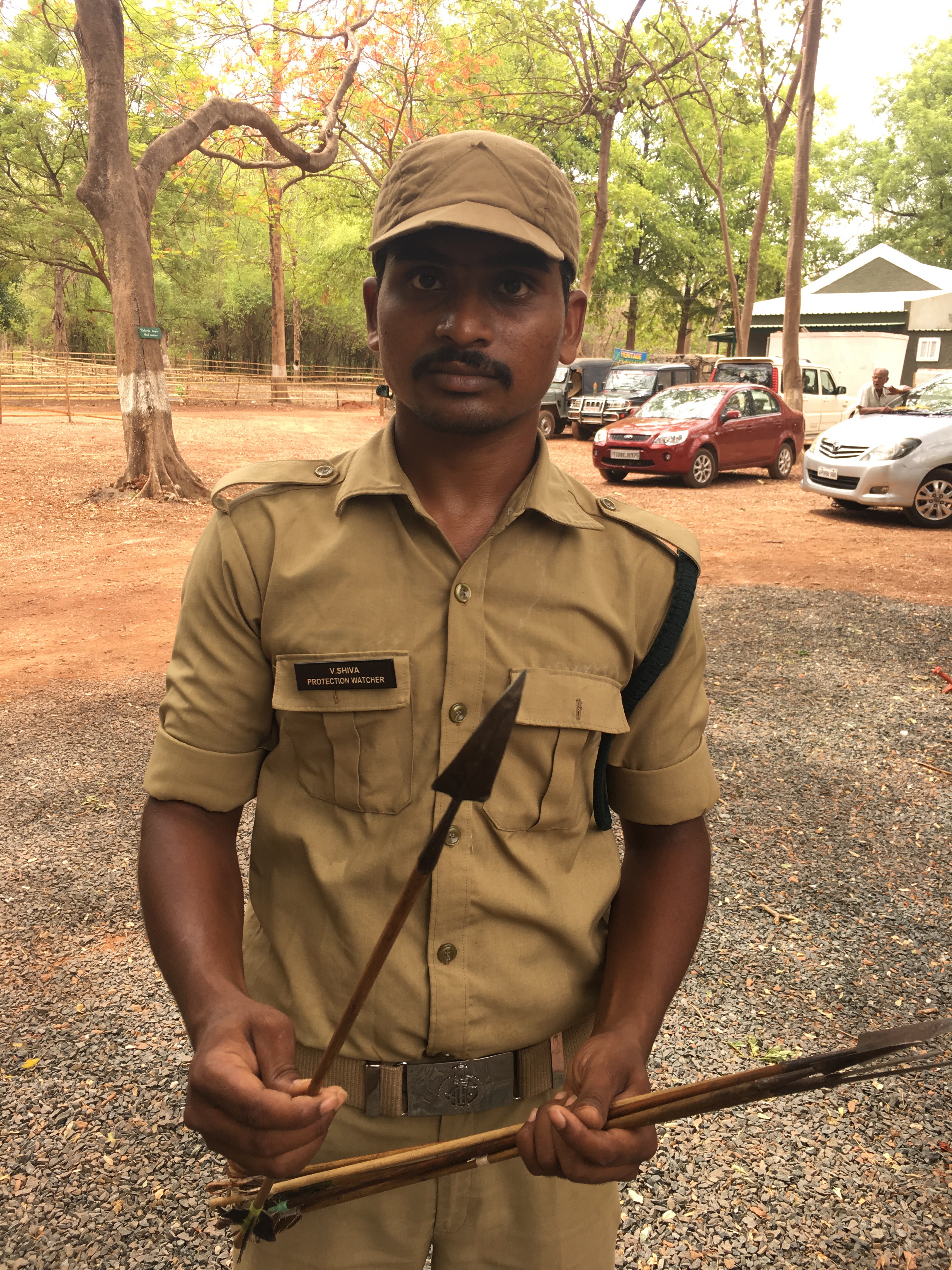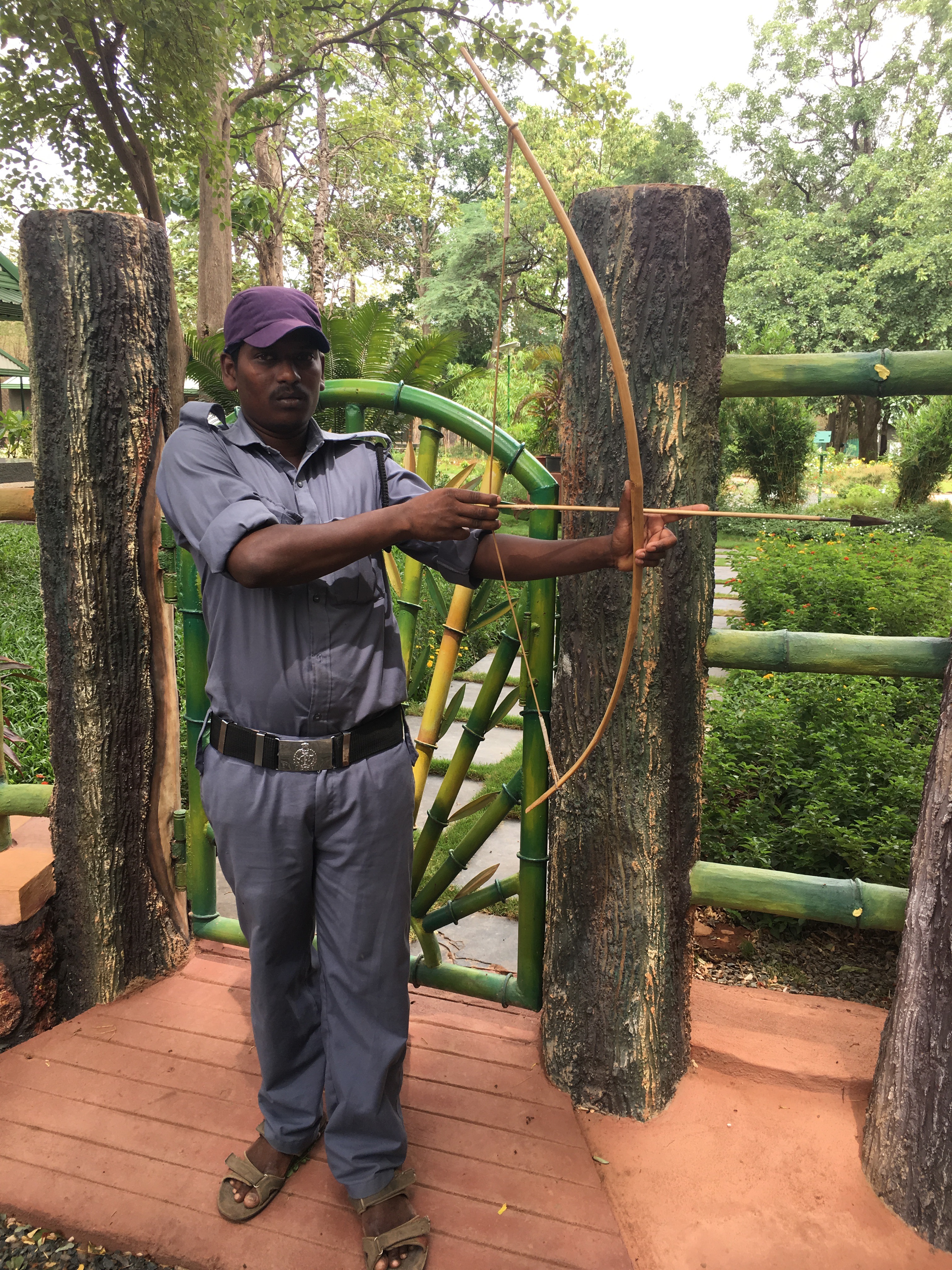 There is space for 6 people in each  Jeep.
We saw a huge eagle perched on a low branch.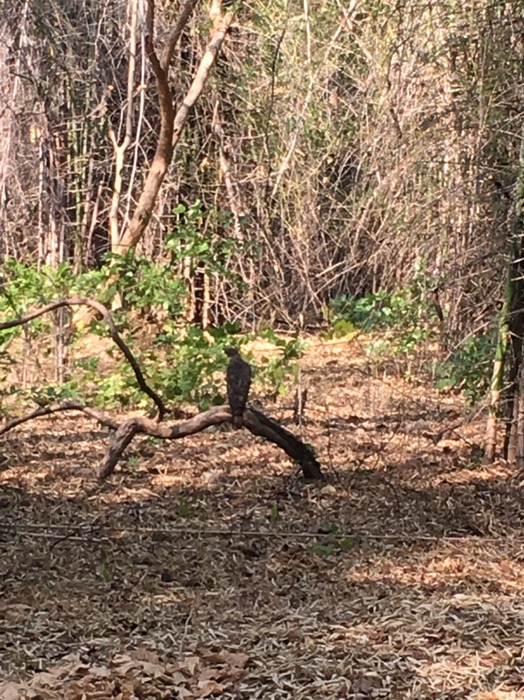 We went deep into the forest about 10 to 12 kilometers. We saw an old temple,  now dilapidated and at few metres  from there were 2 temple tanks and steps onto hills that lead to Srisailam temple after a 35 km of trekking. There are many such routes to Srisailam. These routes are not often used.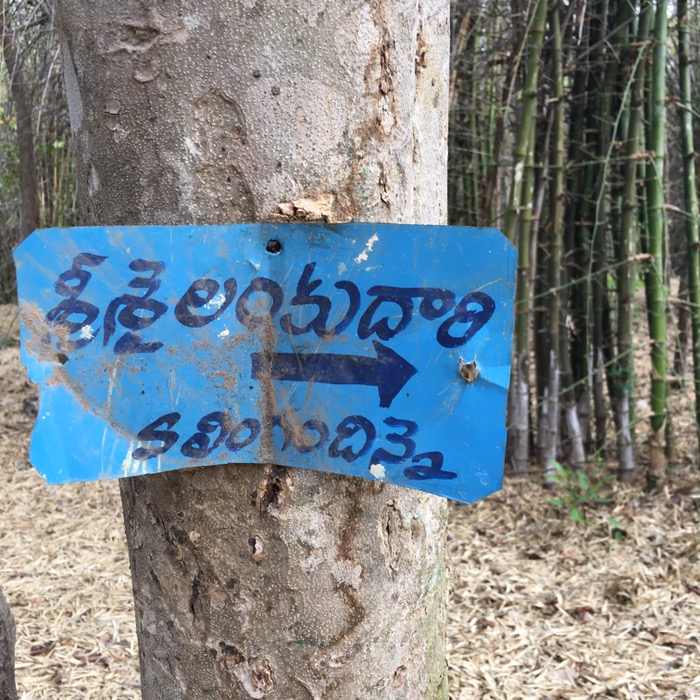 We found a chenchu tribe family spending their afternoon  at the temple pond feasting on forest produce. Way back was uneventful and we  were served  snacks and hot tea on return at the Honey-bee restaurnat.
The sundown brought out the solar lamps beautifully placed all over the garden which have been charged during the day.
Dinner time was an interesting affair with all the bigwigs of the of the forest department including the principal Conservator the Chief Conservator the District forest officer and Range forest officer were happen  to be visiting. Happy to note that everyone, officers and guests, all shared same dinner.
The Nagaluty Forest Range officer Mr ChandraSekhar took feedback from the guests and also narrated the idea and the efforts behind this  ecotourism project. It must have been a massive effort to carve out a livable place like this out of forest that also provides work opportunities for the chenchus as well.
After  dinner we had a good walk around the garden recalling incidents some of the trips we made earlier. It was a good bonding time. Night sleep followed. And we woke up to heavy chirping of birds. It was nice to have your ears filled with pleasant tweeting birds. It was about 5 AM and me and wife came out for a walk leaving our son who preferred to continue his sleep.
Some early morning pictures below.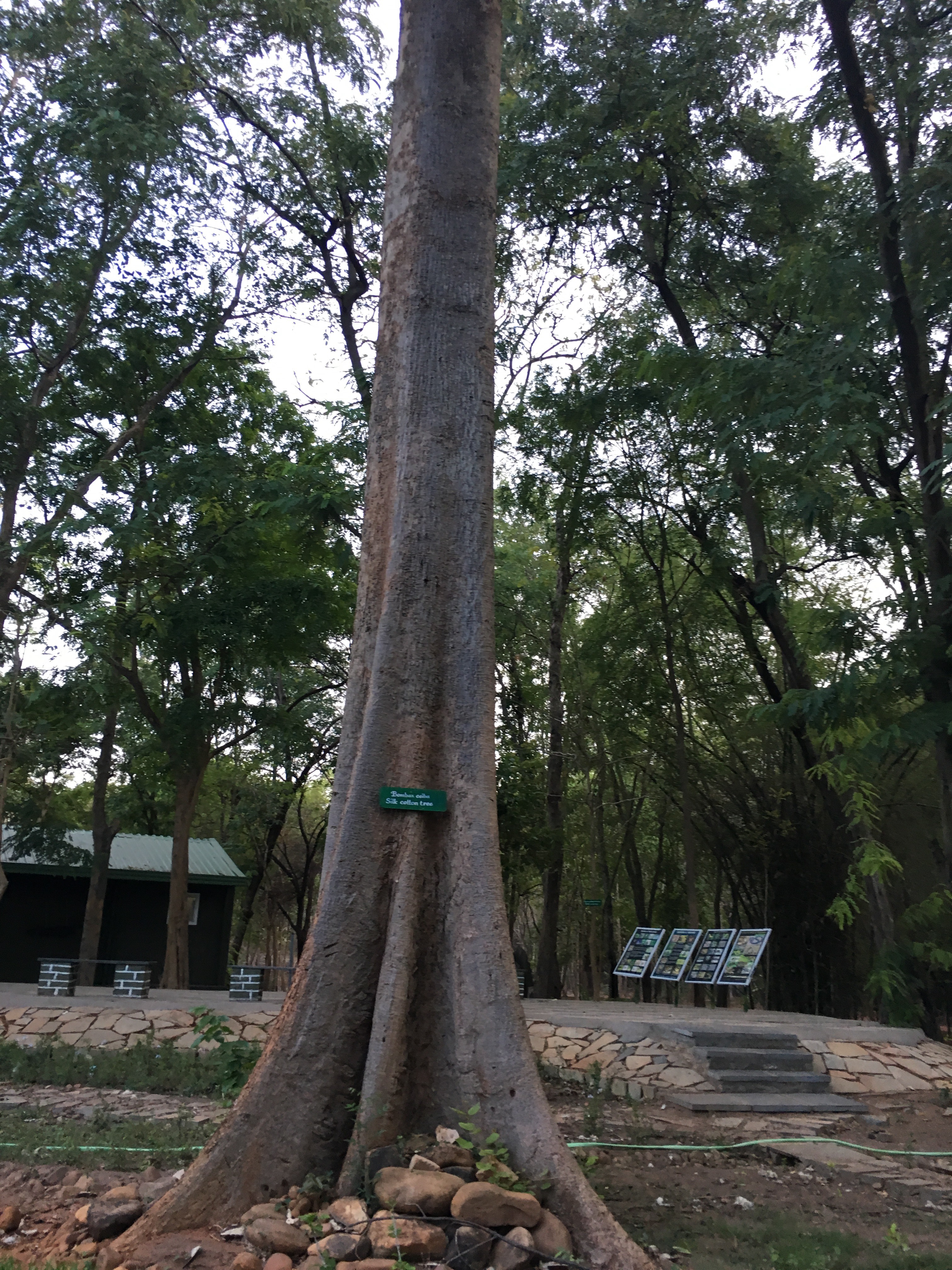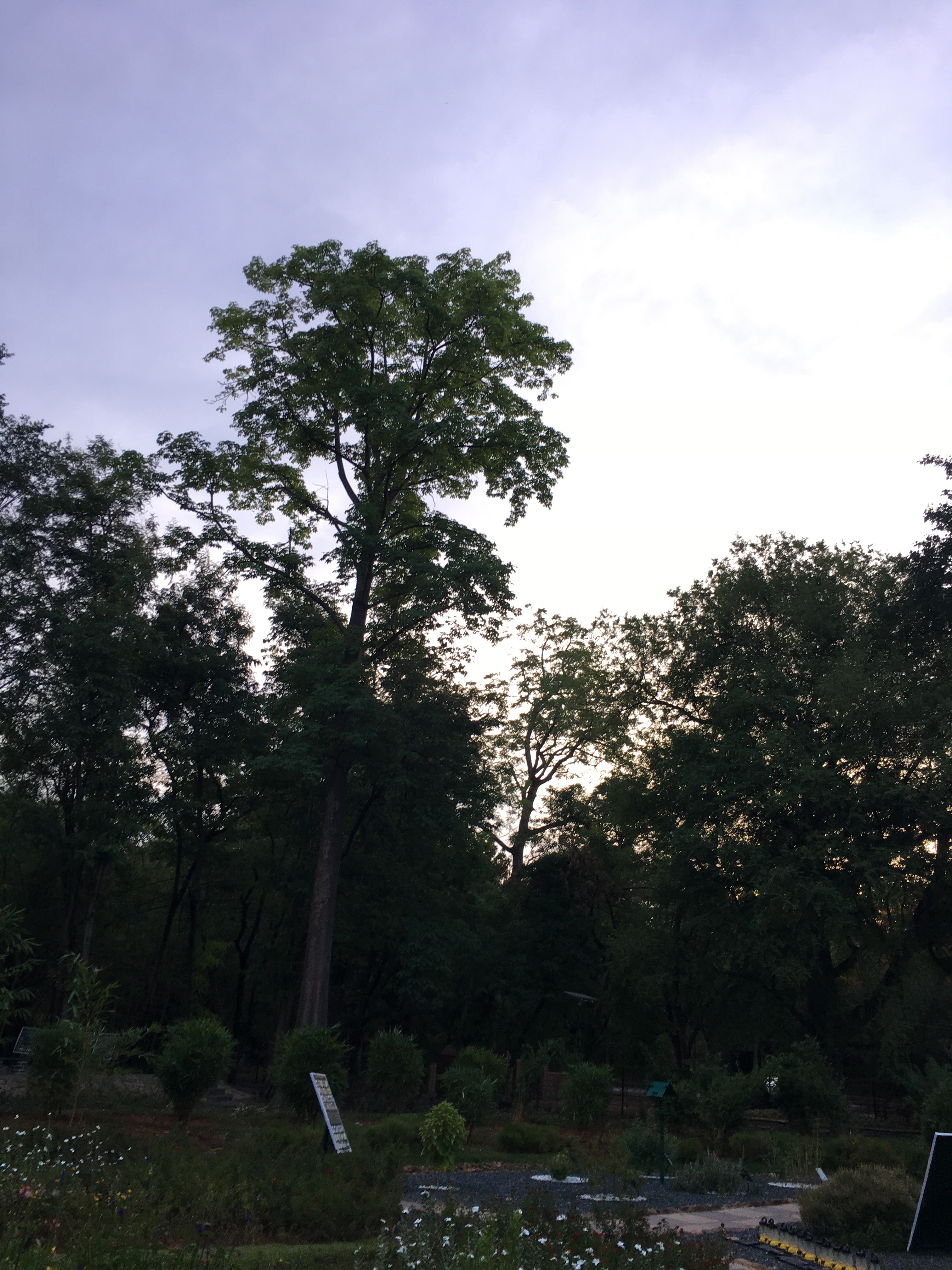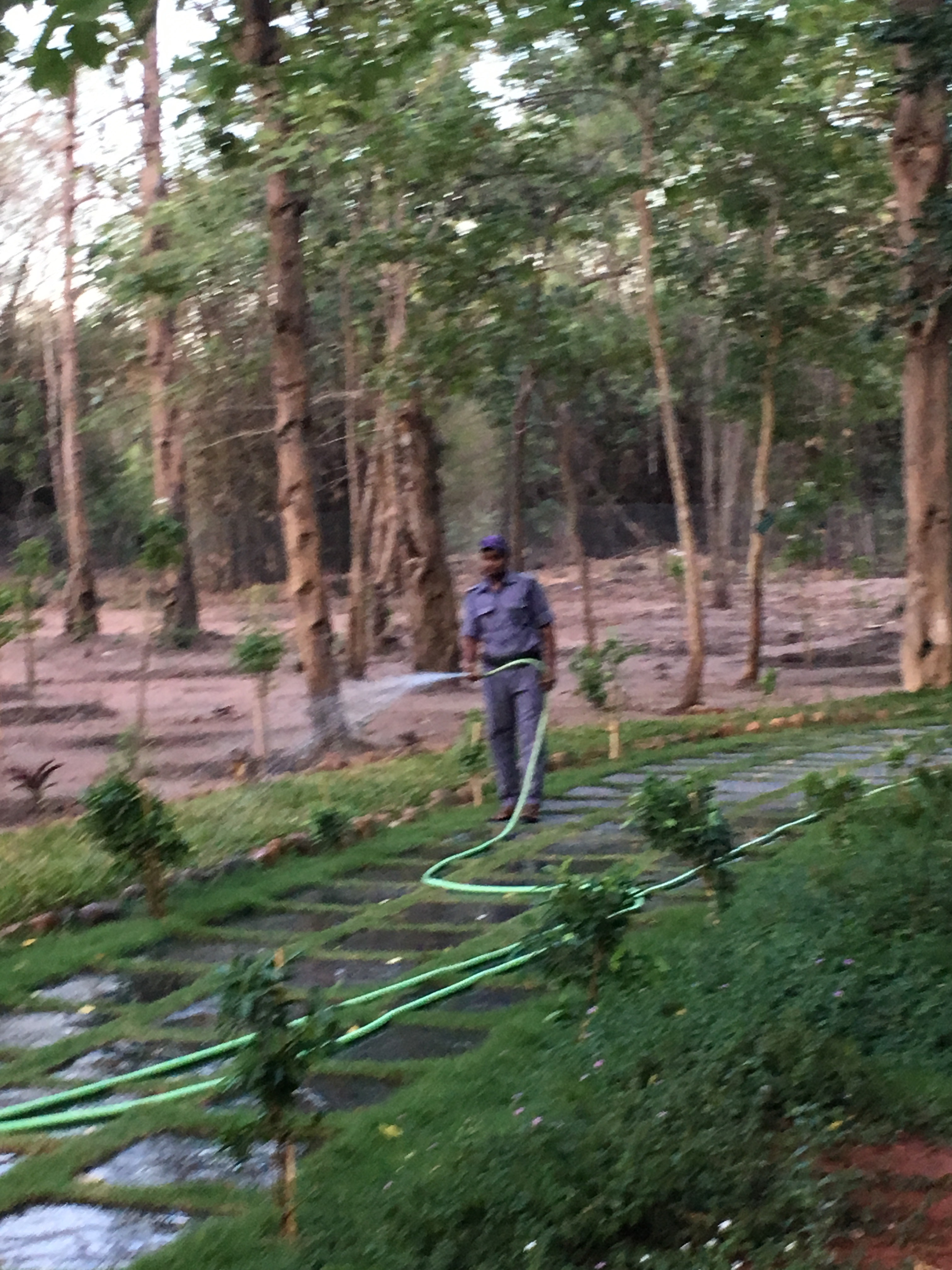 We took a walk around the garden listening to the sounds of critter and birds.
We asked for permission of the forest guards on duty to walk into the jungle. The guard was hesitant at the beginning but he took permission and accompanied us into the jungle we walked deep into the jungle, till the guard  felt it was not safe further fearing some wild animal like a bear that would suddenly attack. We wanted to walk further so, he chose  another route towards a forest base camp that was safer and had a teak plantation as well. Nagaluty Forest range has 21 base camps spread out in the jungle, all equipped with radio communications and has about 6 member staff in each. These camps are said to have significantly reduced animal poaching and reduced  forest destruction.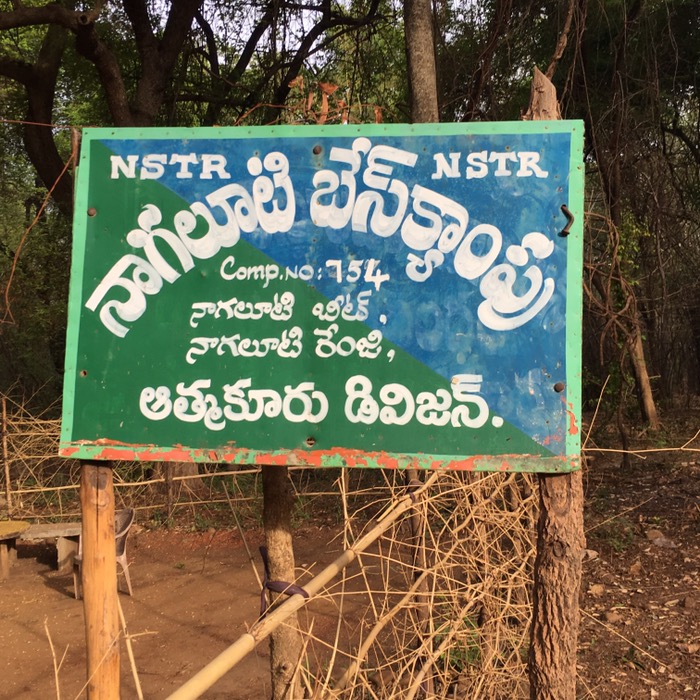 All trees near the base camp are superbly labeled
We came to know of one Mr Hugo Wood a Britisher who did a great service of preserving forests and improving afforestation and civilizing Chenchus. He died in 1933 at age of 63 and is laid to rest amidst plantatios he raised in Annamalai hills and upon his request the following was written on his tombstone "If you want to see me look around" – such powerful message which conveys his love and dedication to plantations.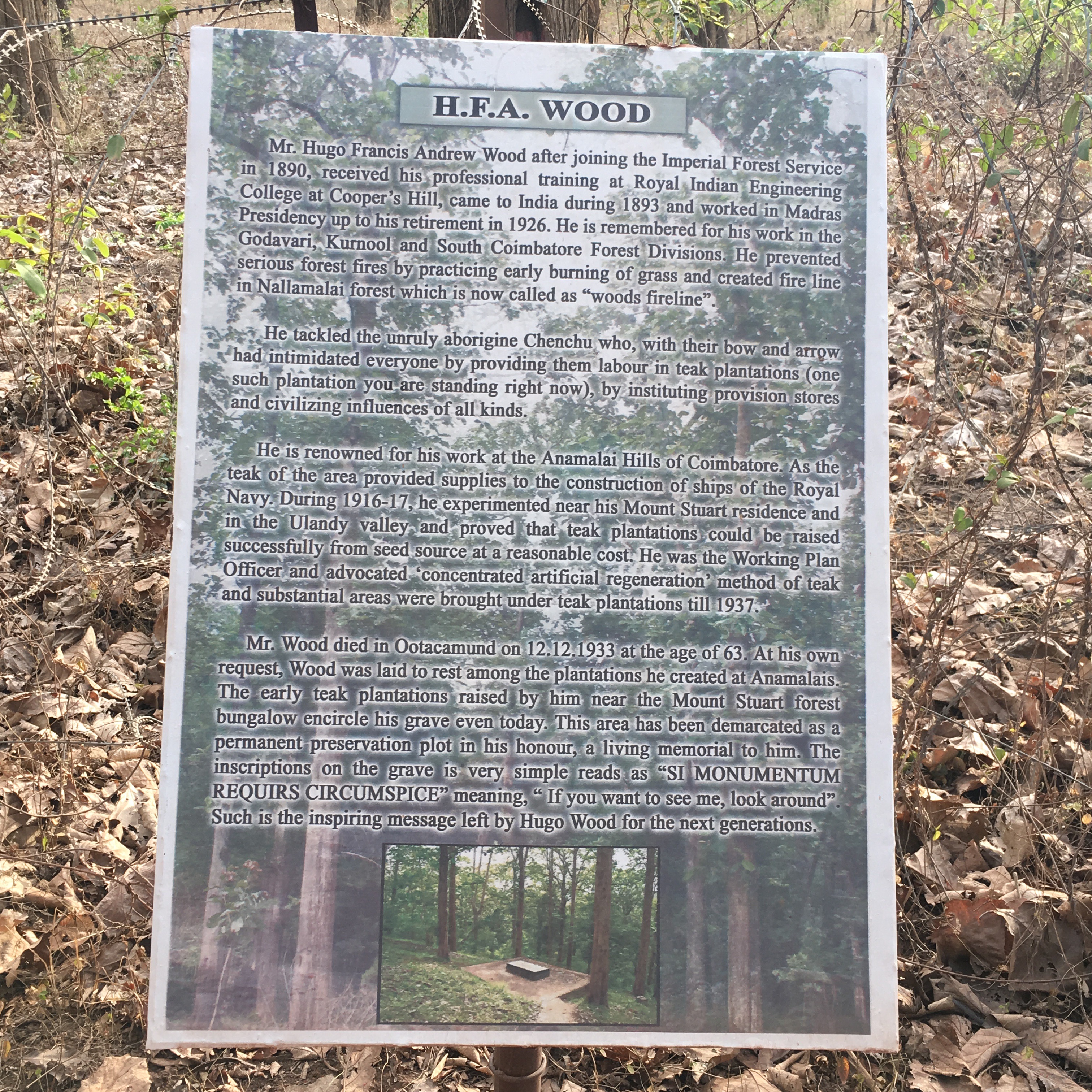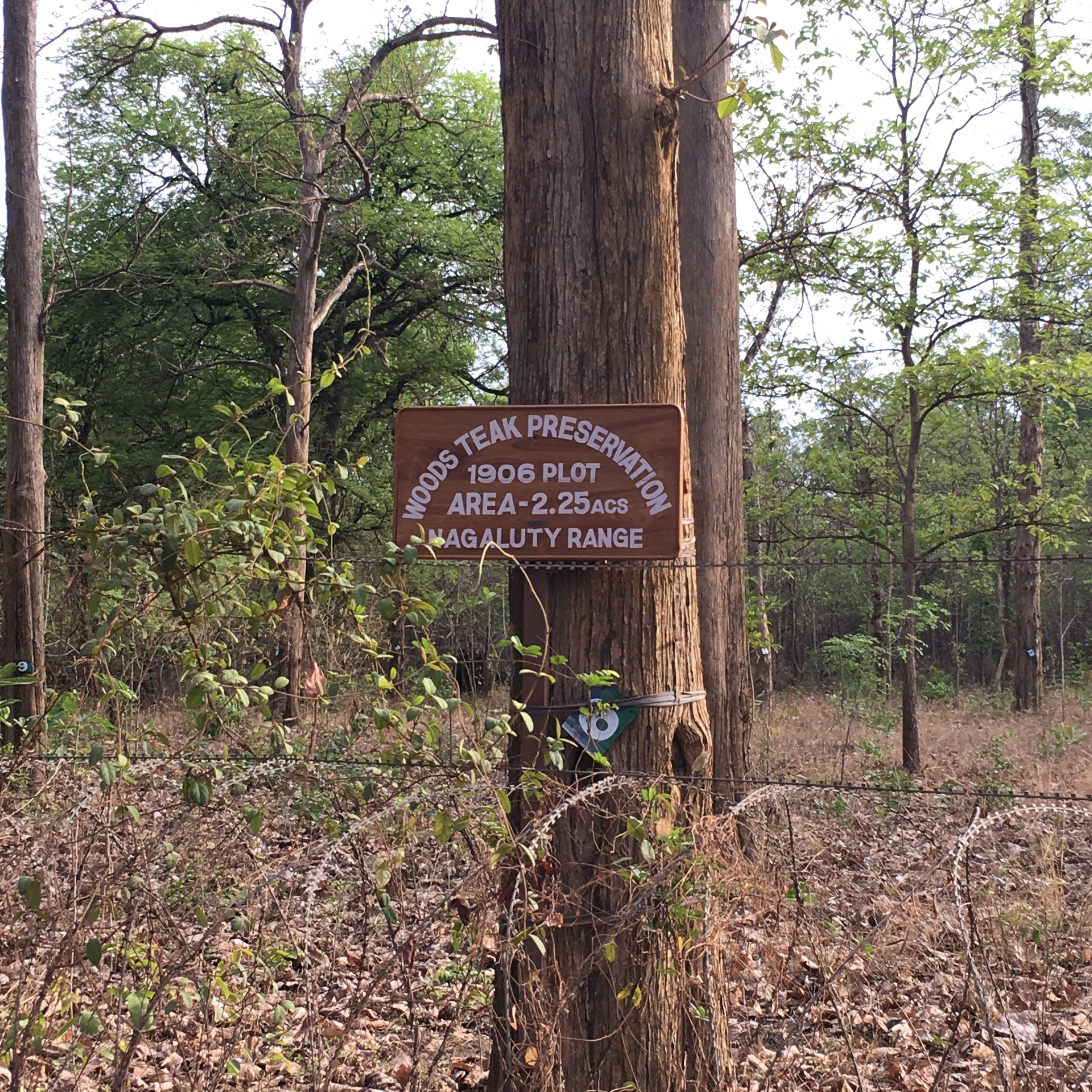 We also found some trees plenty with parrots and we came to know these trees are Madhuca Longifolia  (Vippa) . These trees have flowers which the jungle tribes use to make local Brew, which they are very much fond of. In this walk  we also found so many   colorful birds and unfortunately they were too quick for us to take photographs of them. There were lush green leaved Tamarind trees, but all the goodies of the tree swallowed by monkeys which are found in abundance.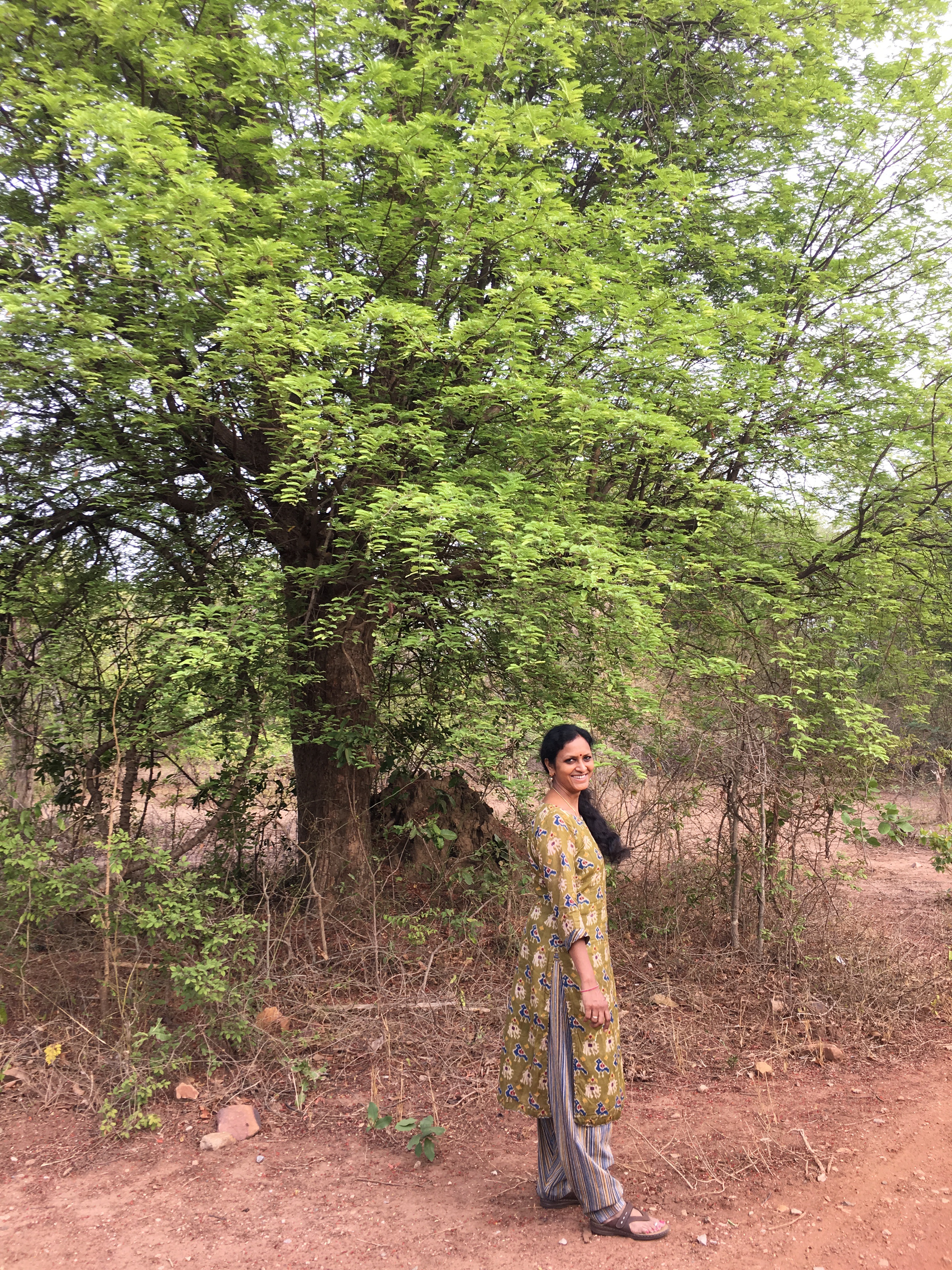 ?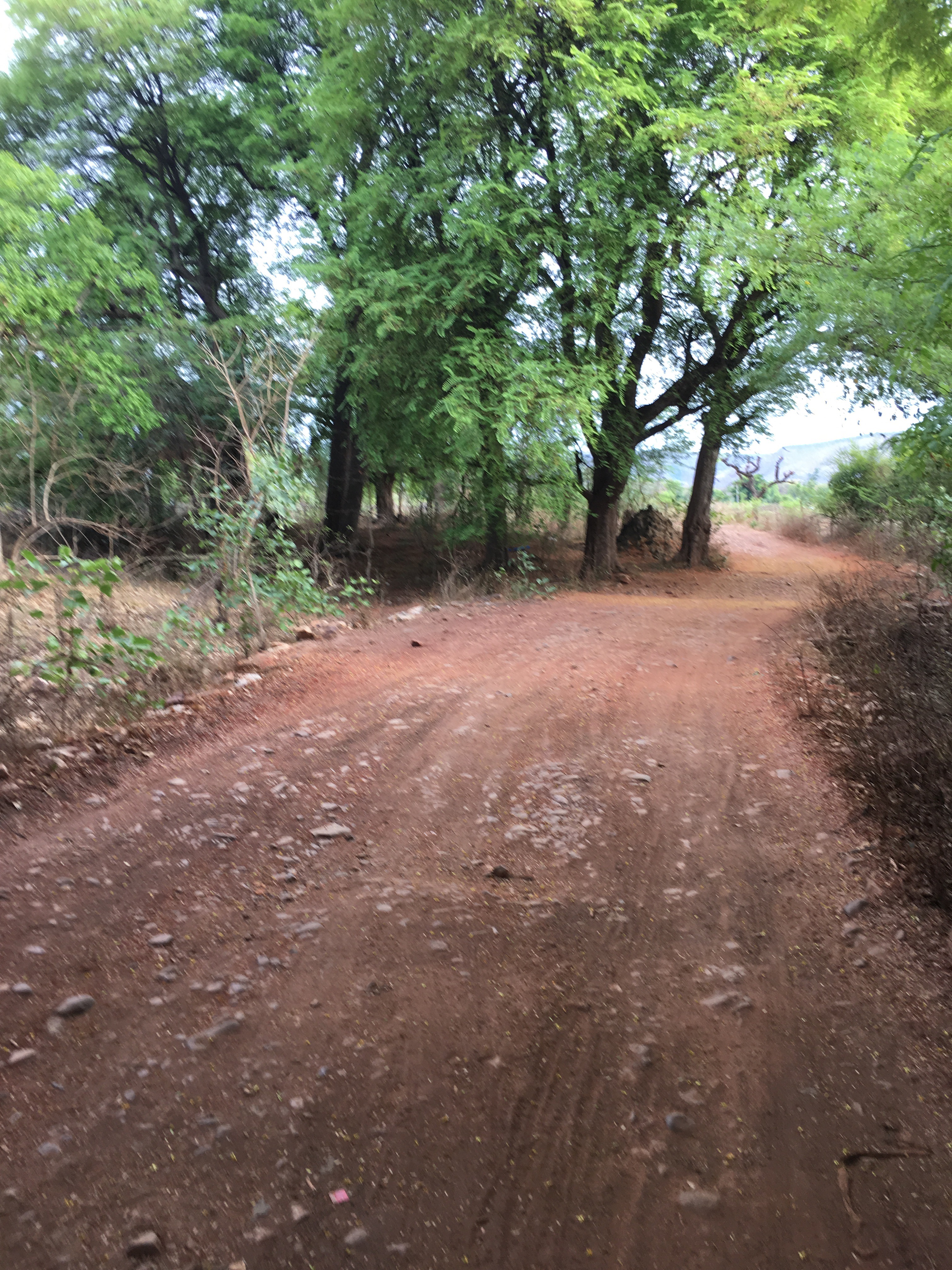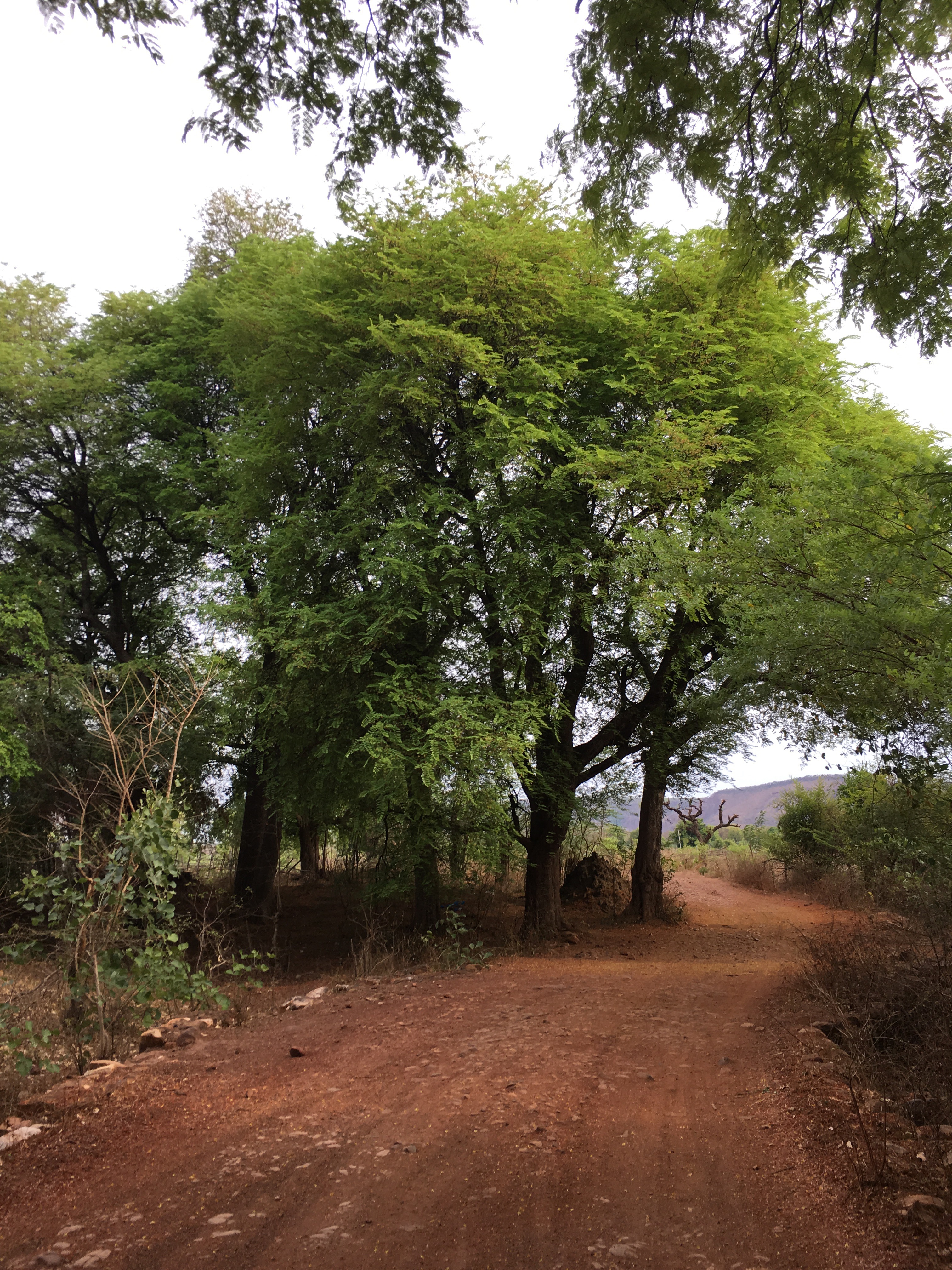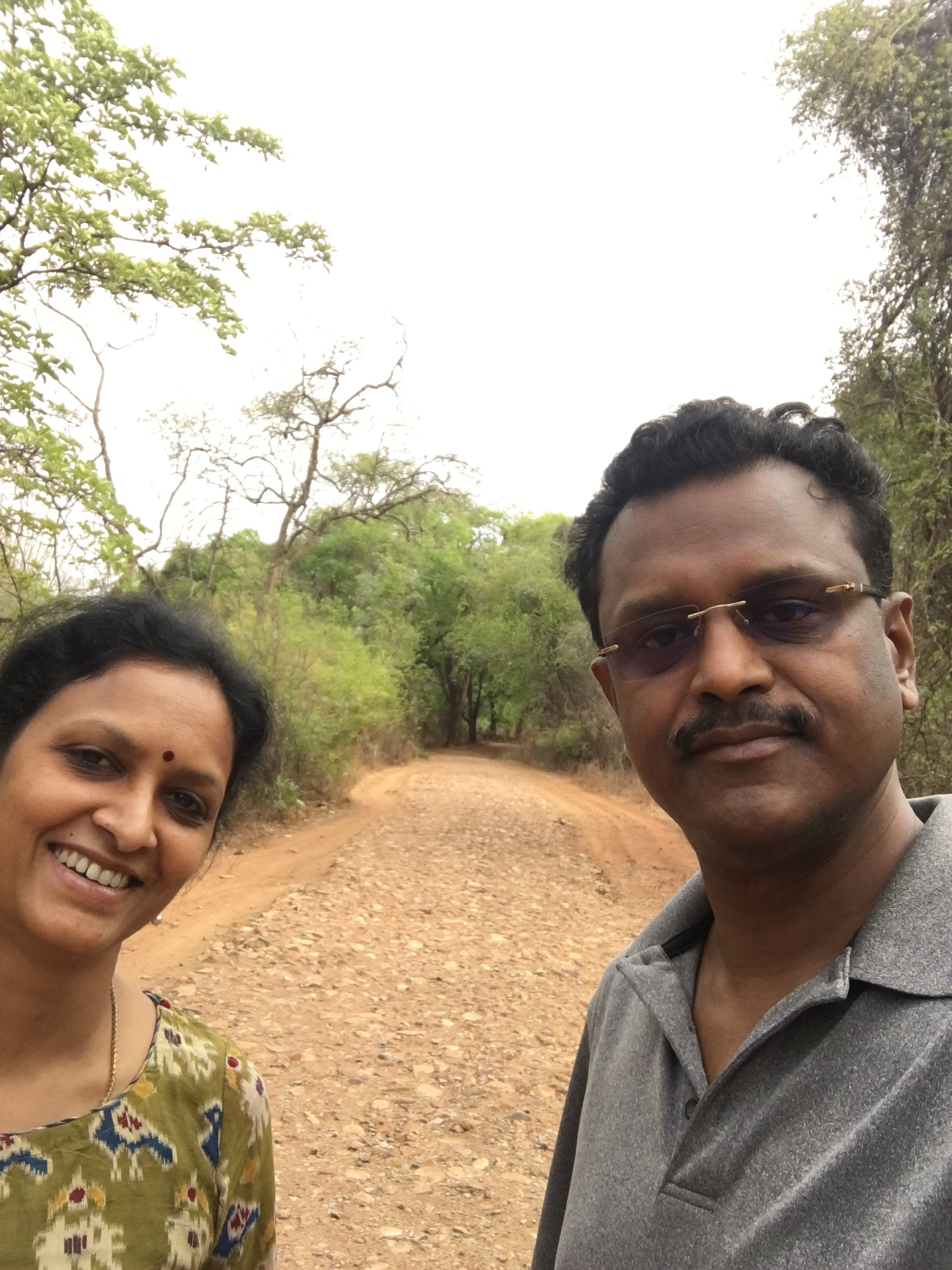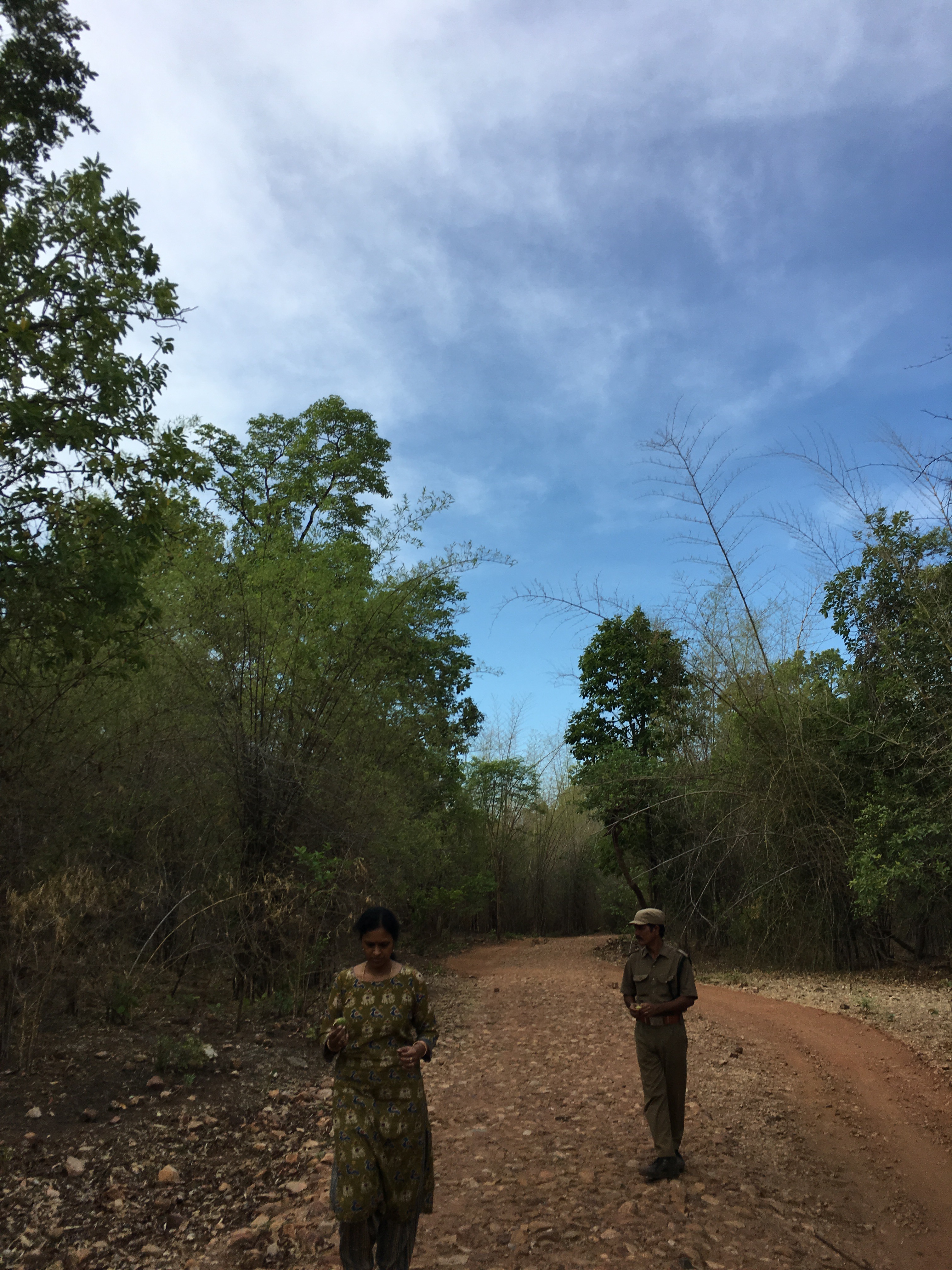 ?
?
A fruit from Vippa tree.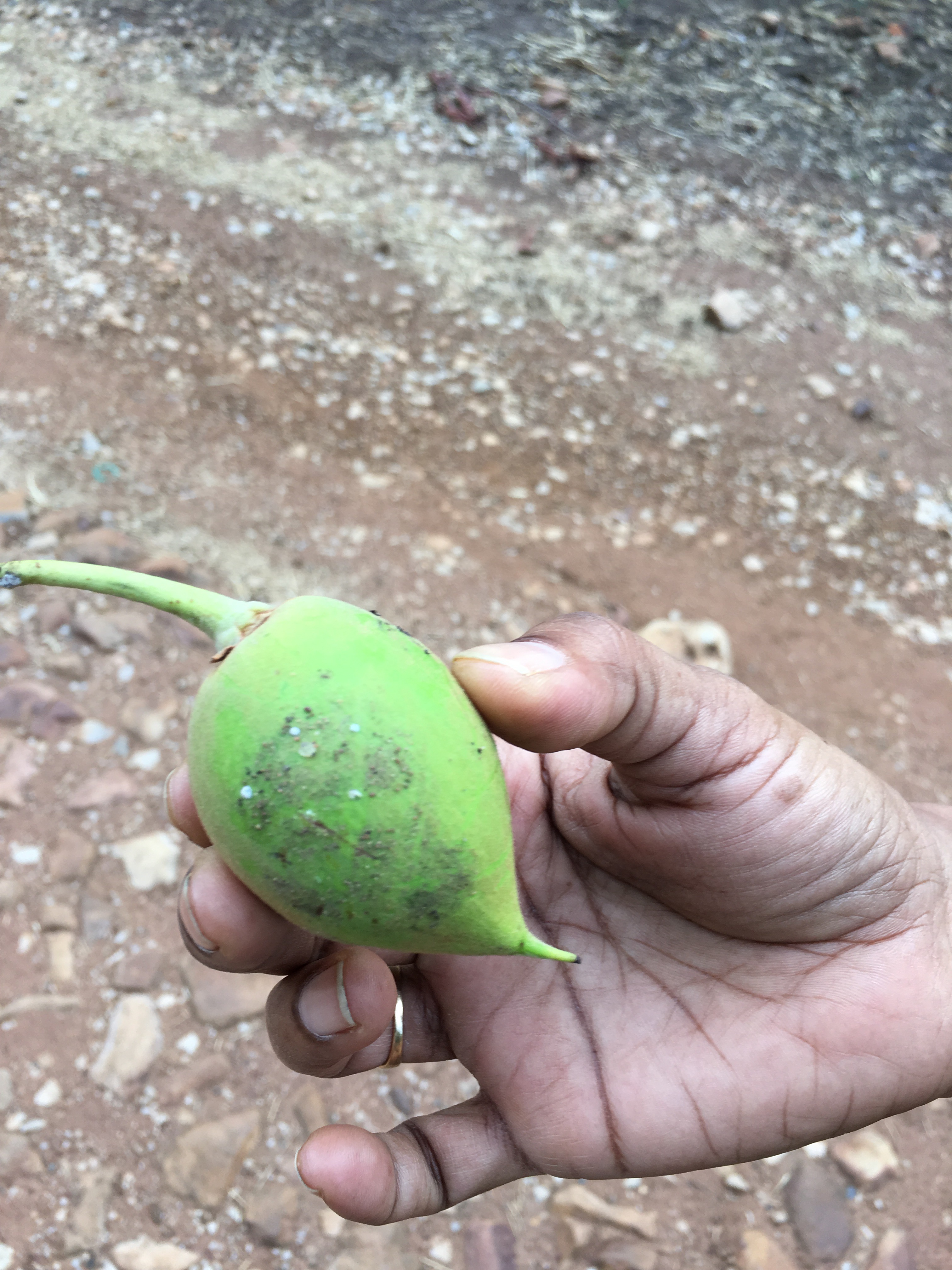 After coming back from this  invigorating morning walk and a good bath we had a sumptuous breakfast. And later we packed up and it was time to leave. We bid good bye to all the staff and left the place with thoughts of returning again after rains.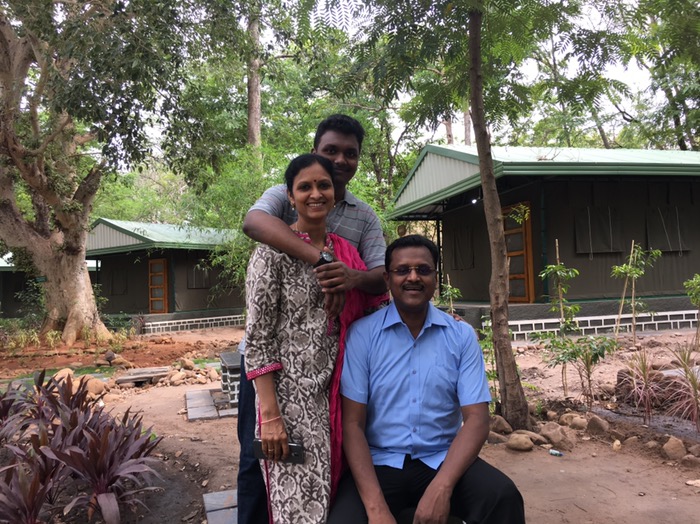 We took a family photo just outside our tent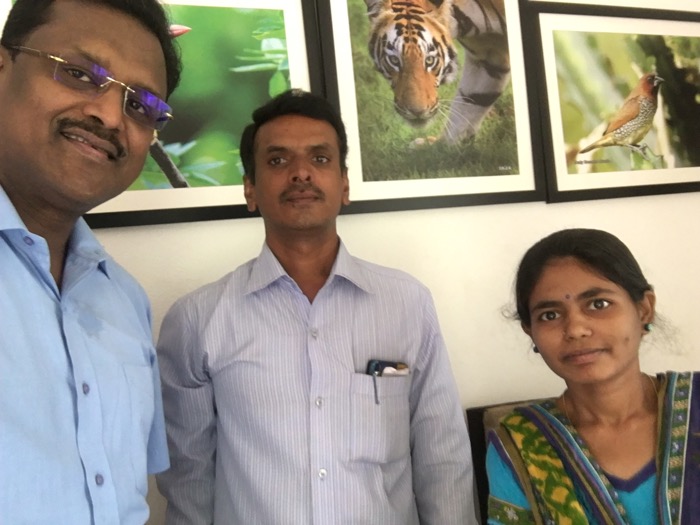 Goodbye photo with Mr Veerababu and the receptionist girl