Dachigam National park
While routine visitors don't get to visit "Dachigam National Park", we were informed about this park by a colleague plastic surgeon Dr Ashok Koul who was from Kashmir. Now displaced.
Our tour operator who is a local person did not know about existence of this visual treat. My friend explained the procedure to visit. We had to take permission from forest authorities, which is usually given on the same day.
Our van driver did not know the place and for the first time he visited the place with us.
Dachi-gaon stands  for "ten villages" which were originally in this vast mountainous land with coniferous trees, water falls, and some plains. Its supposedly frozen to deep snow in winter. We were in the best of the weather. The forest department runs 'trout farming'
Cycles are available for hire. We as a group hired few cycles and a forest guard accompanied us as a guide. He took us all the way up the hilly region. It was strenuous and I was sweating in spite of the cold weather. (It had been years since I cycled). After reaching top of one of the many many hills, we had beautiful view of pristine nature. Cycling down was most exhilarating experience. We stopped by Dagwan river which was cold and gushing with a roar from the mountains and probably had best water right from the stream. Slowly and carefully balancing on rocks and boulders we enjoyed the water cooling our exhausted bodies. Continued down we rode with such speed through mountain trails, we were crossing small streams, our cycles were jumping on small pebbles and stones and view on either side was just unimaginably pleasant with small to wide streams with gurgling water, trees, shrubs etc.
Our guide warned us of bear attacks and other wild life. We did not see any but could see fresh bear droppings. Blood stained dragging marks, indicating a wild animal kill a pray and dragged it across the trail… Fresh animal blood on some shrubs and leaves left us with shivers and fears
We also saw very few cottages buried deep in the forest with army guards. One of them was a telugu man who was very very happy to meet us. He showed a cottage (far away from the fencing gate) and said it was where Ms. Indira Gandhi spent few days after her marriage to Feroz Gandhi. Dont know if it is a truth.
This experience of struggling to ride a bike up the hill motivated me followup after I go back to improve my fitness. May be I will take up cycling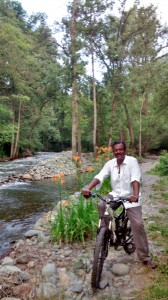 A photo while riding down the trail almost reached the ground level from elevation. This ride down, the hills took away all the pains of climbing up.
Note: We met very few visitors who came to this place and most of them are high govt officials (like IAS and one of them asked us, how we got permission to visit this?)
Wikipedia link: https://en.wikipedia.org/wiki/Dachigam_National_Park
This entry was posted by Dr.Satish Kumar G.S on August 2, 2014 at 10:03 pm, and is filed under India. Follow any responses to this post through RSS 2.0. Responses are currently closed, but you can trackback from your own site.
Comments are closed.